September 26, 2017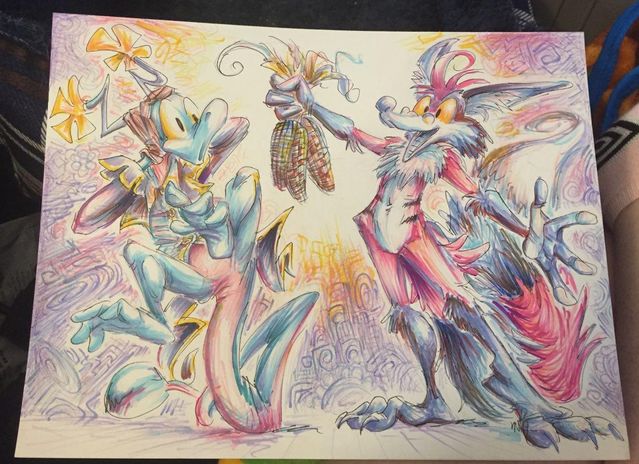 Through my illicit use of
wimpod
's markers, a mildly inaccurate Techno (pinkish bipedal raccoon-fox-person robot) wards off an incredibly inaccurate lope (pathetic amphiboid) with the power of corn. If ever you wonder why all my internet-displayed art is digitally created: otherwise it takes twice as long to make and looks like I have twice as many mental disorders as usual. Which is probably more accurate, but concealing them is the first thing I ever did right! However, after I die from a dope overdose, these ought to be worth almost half as much money as my prints, which counts for something (between $5 and $7.50).
More distressing than the length of lope's legs: my initial twitter post said "a mildly inaccurate Techno wards
of
an incredibly inaccurate lope." I assure you Techno is not the ward of lope. Lope is not fit to be the legal guardian for a potato.
One final matter: can you find the pine cone in this picture? Secret hint: I drew it after this photograp was taken, so you cannot!