May 20, 2021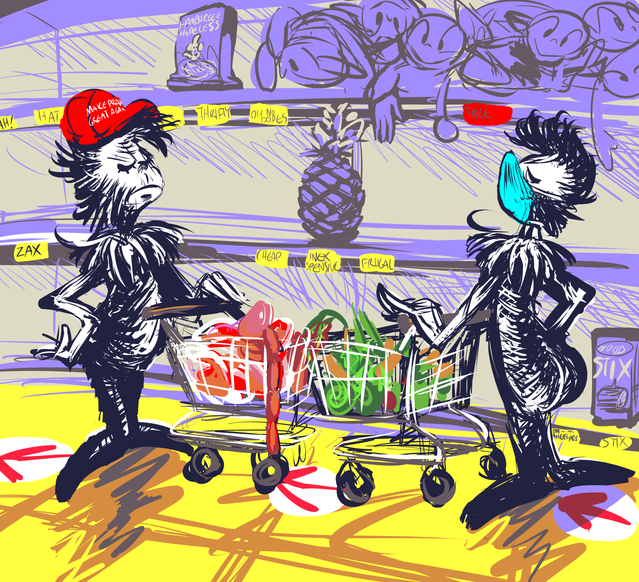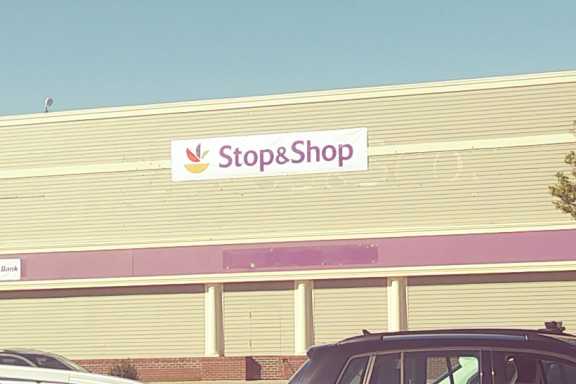 welcome to stop and shop
It is being reorganized; the one nearer to my previous location went through the same screwy phase last year, but this temporary sign is showing the obsolete 2008-2018 logo from when Stop and Shop was merged with the Mid-Atlantic supermarket chain "Giant," which it no longer is, so I don't understand why it is considered preferable to the logoless, proper sign that had been here two weeks ago.


it is a dinstinctily nonsensical logo, reminiscent of the incoherent mass of shapes beside the "L" in the dangelogo, so i noticed immediately when it stopped being used, and again with it reused.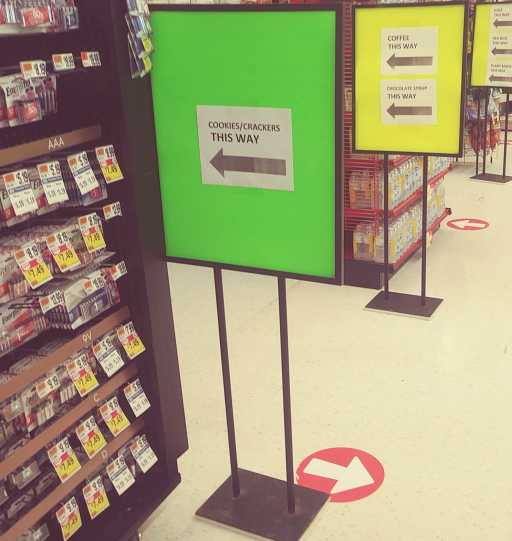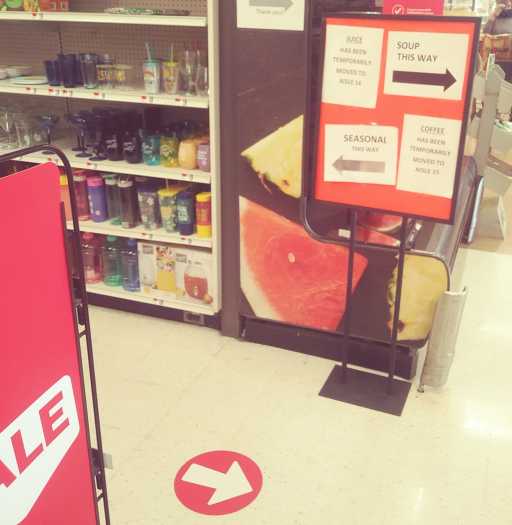 I am getting mixed messages at this store. Or maybe just a mixed mess.
Despite the arrows, or perhaps to spite the arrows, people would blatantly walk the wrong way into the narrowest aisles and then just stand there like The Zax until *I* turned around and go out the opposite way I came in because I want to avoid a fight, which is the only reason I follow the arrows to begin with. I will obey a rule that makes no sense in order to prevent hypothetical conflict but I won't hold up such a rule when conflict picks a fight with it. I will walk the wrong way over an arrow to get something at the end of the aisle and if nobody is facing me. Overall I want to not do anything that will get me faced.
Yes I drew that stupid header picture for this one bit. I initially intended to put the drawing with this section but I also don't want a boring photograph of a shoddy storefront at the top of the website I provide to people who ask about my art drawings since somebody did recently and I would prefer such a person to be put off by an actual shoddy art piece.
I postponed finishing this for 2 weeks since other stuff kept happening and the store went and got rid of the stupid arrows and mask policy but the aisles are still a mess, and people are just as inclined to go full speed in a one-cart-wide space and not care if someone is in front of them facing the opposite direction. AND with the mask mandate lifted it did turn out that the person opposed to me was masked and I wasn't, though I also wasn't wearing an ugly baseball hat with a stupid slogan on it. Additionally I was not naked, sticking my posterior end out needlessly nor standing in a Charlie Chaplin pose, so disregard the rumors.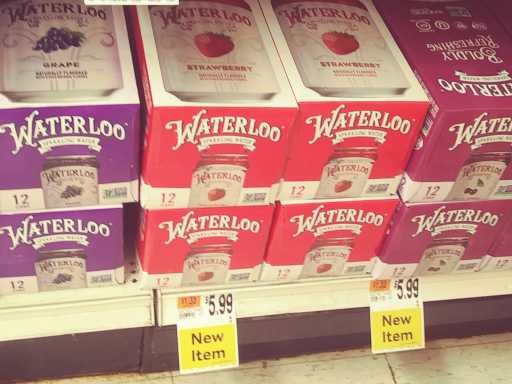 What kind of loser would drink this?
I couldn't tell if twitter people who saw this a few weeks ago thought I was legitimately accusing seltzer drinkers of being losers or they simply don't think napoleon jokes are funny. I do share a home with two seltzer drinkers and I greatly prefer when they DRINK the overpriced, fouled bubble water rather than pour a little bit into another drink and leave the cans all over the place.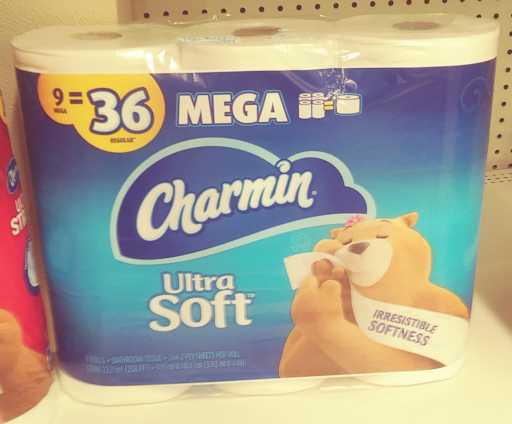 Charmin is great toilet paper if you buy that for companionship
and for bad math but that seems to come standard at this point.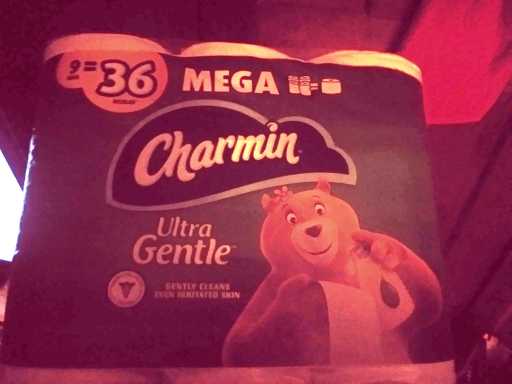 dumb fact: I have had charmin toilet paper in my house approximately one time, last april, at the height of the bogus toilet paper shortage when that was the only brand left in the store because everybody in town recognizes it is inferior at its primary stated purpose and also thoroughly incompatible with all the septic tanks common in a seaside locale that used to be all farms. Supposedly it was "septic safe" and my guess is they determined that by flushing one square and observing that the house didn't explode. I likely used most of it for blowing my nose and diverted my strategic toilet paper for nose blowing reserve to active restroom duty.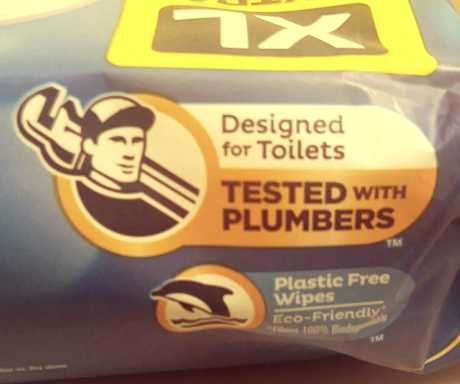 apparently plumbers have particularly heavy excrement which makes them ideal test subjects

hey you want chips? you've come to the right six different places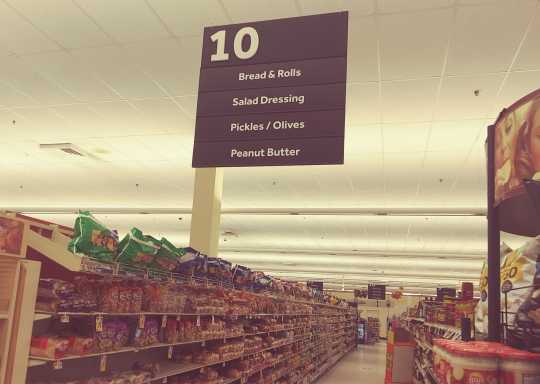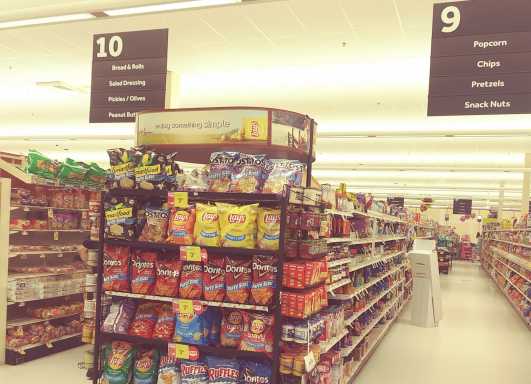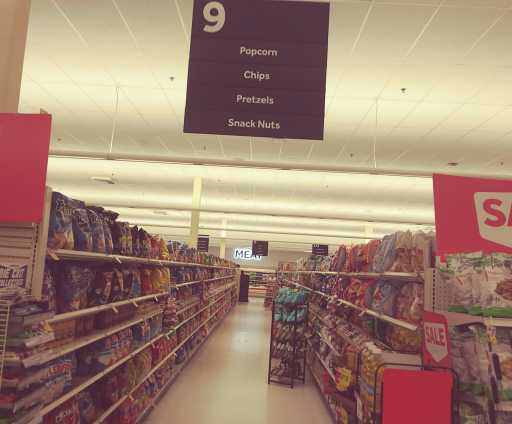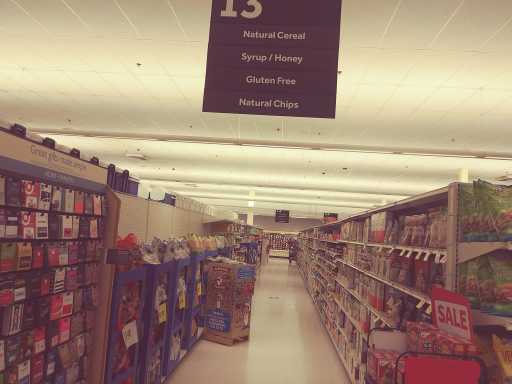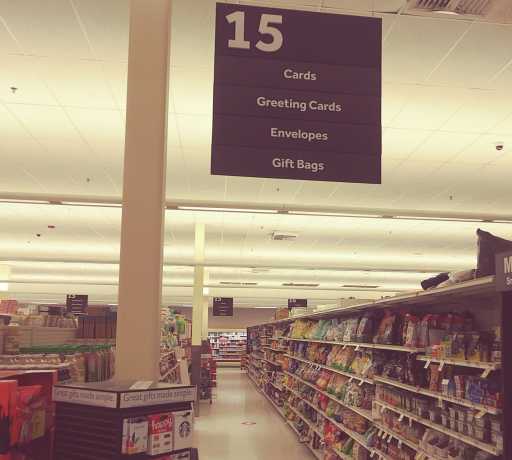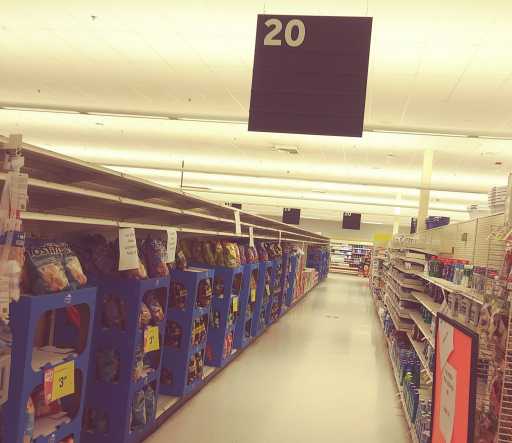 two of which even say "chips" on the aisle markers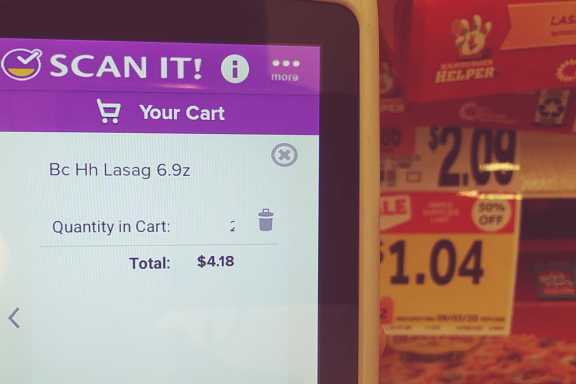 you want 50 percent discounts that don't register when scanned, that the service desk will say will register at checkout, which don't, which the attendant will key in an exception for but that the actual store manager won't see the big deal about leaving mislabeled and having less-attentive customers pay full price for? apparently I do because I still shop here and simply took two and unscanned one the last time this happened because I didn't want to need to show anyone that I was buying hamburger helper, much less making a fuss about not saving one dollar on it. It usually happens on stupid products, like 2 pound bags of york peppermint patricias or cans of cat food. The latter of which isn't inherently embarrassing but I don't want anyone thinking that I personally approve of the cat's actions.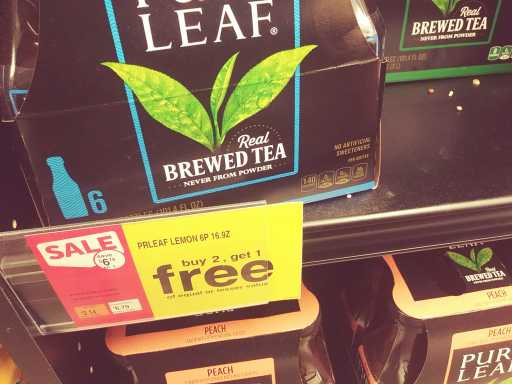 this discount was also fake but fortunately the math still worked out.
there are occasional "random" audits triggered when attempting to check out, which prompt an employee to approach your purchases and rescan them until the computer says they can stop which fortunately hasn't bumped up against my personal manual override of their broken pricing system yet.
at the TIME i was buying these in single serve containers because I kept making the 64 ounce size go bad prematurely by chopping up bits of lemon and dropping them into the bottle to improve the flavor which I didn't immediately realize was responsible for spoiling the fluid early. I have a great many personal tricks that don't actually work because I do not know how to do proper research. For example, I have on occasion considered that the creature nemitz, while an inexcusable crumbum, might be compatible with the concept of plush toys, but imagined mits possession of horns would be a problem. However some time in 2019 my then four year old neice violet showed up with a stuffed animal that appeared to be a mixture between unicorn and octopus and it had a horn which looked rigid but was collapsible and i tried to poke my own eye with it and it didn't hurt, and was difficult enough to seem like it wouldn't happen by accident, which would presumably not-hurt slightly less, which meant an accurate doll nemitz was perhaps feasible, if not at all justifiable. I am inclined to believe there was a better way I could have determined how safe it was to jab my own eye without actually doing that.
Also the reason I didn't post this two weeks ago was because I meant to find that unicorn octopus doll in this house so I could photograph it, and I didn't, and then I forgot. Absolutely nemitz's fault.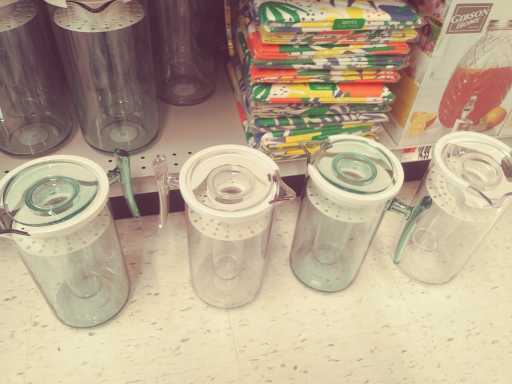 ALSO even that iced tea purchase is also outdated, because I have lately been so inclined to augment the iced tea I buy with additional lemon or additional tea I decided to just make my own full pot of it, today. Eh my concoction needs some tweaking, and I don't think i saved any money yet either because it meant I had to buy a pitcher, I found one here, for $14. When I went to remove the internal components to wash it before using it, I discovered they were broken. When I went back to return and replace the item, knowing that the longer I put off doing that the more it seemed like I broke it, I found the four of the remaining pitchers ALSO had the same part broken.
However Stop and Shop is still a better store than Shop Rite, a substantially better store than Price Chopper, has very good deli meats and self-scanning machines that greatly improve the overall experience. I just like to complain.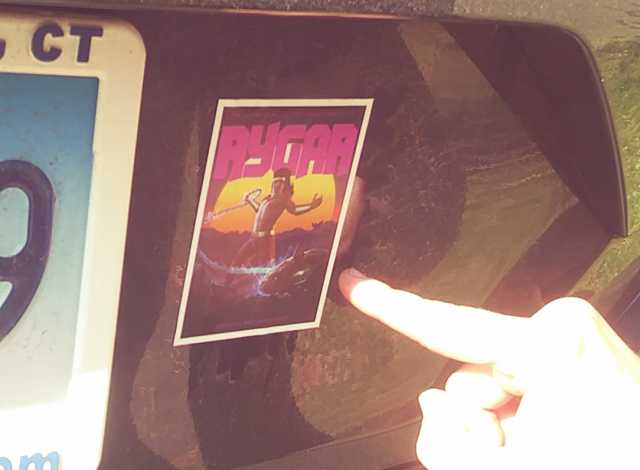 There is always someone to blame.