March 18, 2013
My next update will be about something we can all agree on: skeletons.
================================
Apparently it is not funny to write about something that makes me depressed while I am depressed by it except from a potentially antagonistic perspective. I should find out who dislikes me and have them read this. Reading it may be sufficient to convert others.
————————-
I want to unfollow everybody who posts regularly on twitter, but then i would see nothing at all, in which event I might as well not go to the site, in which event there was no reason to dewatch anybody. To assist myself in making a decision, I continue going to twitter and being angry/depressed at garbage from the same people. It is almost never my preferred type of garbage. Would a momentary catharsis be worth terminating 10 friendships? That is not a factor; no friendship is sustained by that system. It could be said that twitter was beneficial for determining the lack of a friendship, but I don't believe I can sustain any friendship in that system, and historical evidence has shown that I am capable of having friends under proper atmospheric conditions
How long before they notice? Maybe I should tell them. I don't want to seem mean.
—————————————————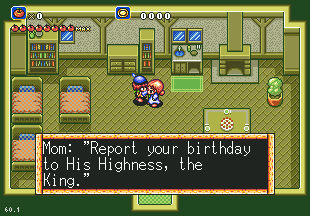 Well here it is, the big three oh-no i am so old that I refer to someone's age as "the big," by its individual digits and with the letter O instead of the number zero.

I have had a great amount of anxiety about aging. I was terrified of arriving at this age and utterly not relating to all the people I already didn't relate to from within a slightly different age group. I was thinking it would be a relief to disappoint a narrower share of the advertisers, but evidently I am legally relevant to them for another four years. I don't expect to have children, but I never expected to be one, either, much less still be one 30 years later. That statement has no meaning but doesn't it look like it almost does?


This year, I anticipated in advance the automatic birthday notices I usually get from other websites. They are jealous of my relationship with bimshwel. Usually I get annoyed when they try to contact me, and I see that I have 6 new thoughtful and considered email messages in the morning on my birthdate! and it's just stupid robots that send things without thinking and also send them to everybody and I'm not special. Since I had announced in advance that I thought they were coming, I was disappointed when they were late, and then relieved when they showed up.

By anticipating disappointment, I was disappointed when none came, and then I was not disappointed at all when I was finally disappointed.
I can appreciate these automated messages because unlike the reflex "happy birthday" that, usually, people with just as much regard for me as a person as Zophar cover my pages with on websites that disseminate the data without asking, there is no imagined social debt to pay to Zophar on his own birthday, a debt which would be much harder for me to repay because I feel an obligation to say something of substance, that would be personally pertinent to the person or robot, or nothing at all. Zophar would know I didn't actually finish Lunar Eternal Blue by the vagueness of my message (messages are his domain, after eh)
I do not disclose the day, ordinarily, because I hate responding to the things almost as much as I hate writing them. "happy birthday" is not a logical statement, or a statement at all, and it confounds my literal mind.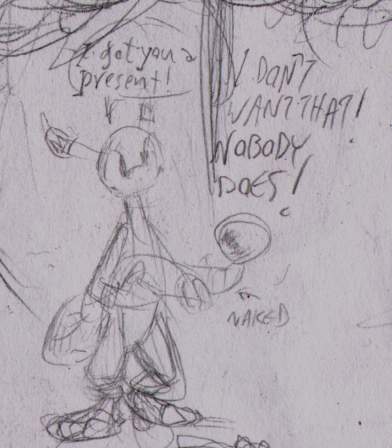 what have I accomplished in all these years? I have written a few hundred of these website things, although I did that in 12 years. Theoretically I could have done twice as many through my full life, so I am horribly behind. I exclude the first six years, when I was of course in jail.
I believe I summed it up well enough in the 10th anniversary, when I said that nothing had happened worthy of commemorating and I abstained from using the word "anniversary," as if we were married, but it is possible bimshwel is the closest I will ever come to emotional intimacy with anyone, and even it I hide things from.


WHAT YOU TALK ABOUT. YOU TELL ME ALL. I KNOW ALL EVENTUALLY. TELL ME NOW. I THOUGHT I SPECIAL YOU. I FIND OUT. NO HIDE FROM ME. I COME GET YOU. OOPS NO CAN DO. GET YOU LATER. TELL.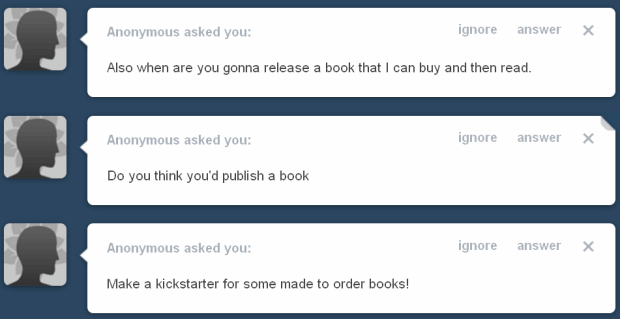 One person thinks I could make a book of it. One person who doesn't feel strongly enough about this to not be anonymous. (I can't think why somebody would keep their identity secret when saying something to me). I certainly do not mean to seem ungrateful for the anonymous approval; this way I can pretend up to three people independent of each other decided I was worthy of approval so long as nobody knew who was giving it.
These website things are not worth much, monetarily (my assumption about kickstarter is that I would only make people want to start kicking me), but they make me laugh, sometimes, and they have an emotional connection to me that no other writer's material has. It is neat when I forget I wrote something and reread it, and more-so when I still can't remember after I have reread it. It is like knowing somebody else who has the same problems and odd appreciations. Maybe that is pathetic, but pathetic is something I understand deeply. It is like I created a robot to be my friend, except it isn't well enough made to be patentable, which keeps it humble, and it doesn't necessarily like me, possibly because of the shoddy humility I cursed it with. It is much more discerning than Zophar.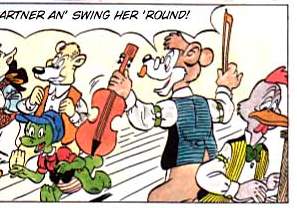 I would encourage anybody who feels alone and misunderstood to create things which reflect that. Even if no one else appreciates them, get far enough into the future and maybe you will. I can, naturally, also look at some things I made and have unique insight into how awful they are, but that creates an opportunity to publicly shame them into somethings bearables, like that time with nemitz preludes.
I have been unusually behind on updates because I am attempting to graduate from this university during this semester. My college situation is a major digression point. There is no time to digress because I have stupid college garbage to do. I know; I spent half the day writing it and I really didn't have time to do that.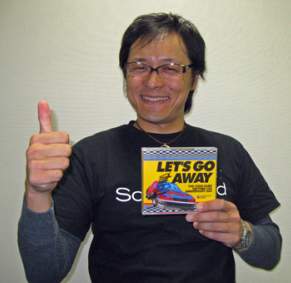 And that seems to be all. I assumed I had been steadily documenting my thoughts for an explosion of self-realization and evaluation at the conclusion of my thirtieth trip around the year, but I do not feel any different then a week ago, or a year ago. My epiphany is as behind schedule as anything else is. I have to put off my identity disaster until May. How can I be happy about that?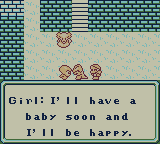 By unloading it on someone else, perhaps. Possibly you. You don't have to understand. You may be served better not to. You came here for some reason, and I'll take it. My online art gallery is a chronological, and my facebook whatever-it-is a chronoridiculous journey through reminders of people that I no longer speak with, and in some cases never spoke with. My personal acquaintances are often questionable friends of siblings, who come and go by circumstances beyond my control or interest, as I often have as much in common with them as the people who pretend to be animal people from my online art galleries, except they are less open to the idea that anyone might find them peculiar and discomforting. I have been indifferent toward people and developed curious grudges through my entire 30 year series of consciousnesses, but after eight years of having to press a button to say who my "friends" are it is strange to realize "no, they aren't," but not surprising. Maybe that is "normal." It should not be.
Here, however, as far as I can tell, I have been talking to the same person for over ten years, and I like having something consistent. Additionally, I swear this is more positive than the thing I didn't quite post yesterday. Imagine how inspiring it would be tomorrow.


In other news, you may already owe somebody money.