May 12, 2012
I will have something nice next week. Comparatively.
===================================================================

Bimshwel: five years of ehhh, three years of ah? and two years of oh.
Just think, in ten years bimshwel has gone from an irregularly updated personal weblog angry about stuff that doesn't matter, maybe a little obsessed with old video games, written by an unemployed student with delusions of being a successful cartoonist and read by a few people. It all goes to show that if you work hard on something you love and never give up, you too can alienate the people around you.
I had absolutely nothing planned for this occasion apart from that sentence. I have been overwhelmed with deadlines for arbitrary tasks and only just realized "today," Friday, gah, here is another one, and my own fleeping fault, this time. I knew this was coming. I had ten years to prepare. But there is nothing.
It has been my experience that when somebody tells me to give them something two weeks from now, at the end of two weeks they may remark "you had two weeks to do this!" More likely I had a few isolated hours across two weeks, during which I was incapable of coherent thought. And so, with all my deadlines recently, not one's task was completed to my satisfaction. I am both difficult to satisfy and lacking in the skill to produce satisfaction. However, those also were externally assigned tasks that were not of personal importance to me. The things I make that matter to me, the ones I have tended to tell myself "no one else cares about," that I do without deadlines turn out the best. They also get shoved aside when I do the bidding of others. So ducks to your birth-date, bimshwel. I shall speak of it when I deem prudent and some day when you're older you'll know I was right. Now get back in your room and play the piano! I want to hear those scales! Now! Stop crying! I didn't raise no sissy website!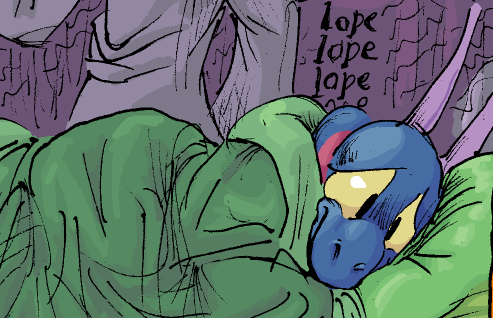 Lizard? I HAVE NO LIZARD.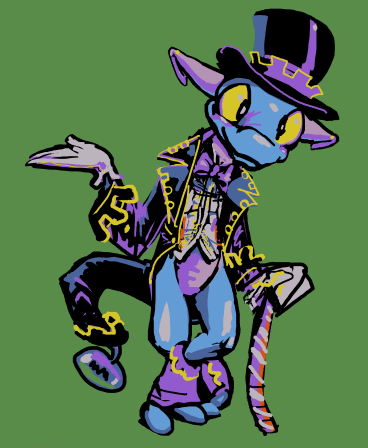 I'll see to it that nobody else has one either, if you keep that up.
Five years ago I appear to have questioned that I could still possibly be doing this five years from then. I wonder if I sincerely believed that I would not. Around that time I had only recently entered into online art-sites and displaying my pictures on them. I did not mention it here because I was ashamed that I had, at last, publicly become involved, even though I had been browsing the things for a few years. So when I did post my own nonsense I did it under names that I thought didn't sounded like I came up with them because I didn't want anybody from here to find me there. Now I have links to the things on the side of this page. It seems that no matter how ashamed I become of what I do, I follow it up with something else that makes it seem forgivable by comparison. I suppose I'll start linking to that without even thinking to comment in another year or so.
I mentioned new websites that quickly got more popular than my old website. I reckon few of them are still updated, if they even exist. So I win. Nothing. Now I have the same gripe about the relative fame of users on the dumb art sites. Someday I will win nothing on them as well, merely by being so socially immobile that I linger long after most people stop caring.


Look there, 900! That's a lot! Especially for me! I should be overcome with emotion at the approval. This proves that people like what I do. However, there are also 30 different oafs in the same vicinity who have drawn the exact same dog-thing over and over again for years with minimal creative ambition who easily have twice the approval. Three times as much if it's a dog-thing from a bad video game or hideous cartoon and multiply either by 1.8 if the dog thing is a dragon thing. I have checked and verified these figures. It means nothing.
Not everybody really
wants
to be creative, anyhow; they just do it for fun. Fine for them, rageful for somebody who sincerely tries.
Half of this 900 lot probably don't even go to the website anymore… which helps me in my quest for victorious nothingness but also implies that they are better than you (you being me), for their having left first, the scamps. A third of the remnant are ready to drop you at any moment, and eagerly anticipate a reason. Or perhaps they want you to watch their page. Not you specifically, but anybody at all who will increase their always-visible point total. Perhaps it even happened out of pity. Or maybe they like your drawings but find you despicable. Or perhaps just like the last thing you put up, or someone who means more to them than you mentioned you. It seems fashionable, for the moment, to acknowledge you, but by and large you are of negligible importance. It is necessary to build absurdly large support networks because the actual units of support have so very little meaning. Anybody can suddenly hate you at any moment And by beanbags I've done it myself. The personal weblogs can no longer be imagined by me to threaten me, but fleeting, fickle nothingness yet thrives. Those who are truly dedicated to the site or their cliquey support networks don't have any more use for me than I for them. But I like it better than twitter. I have no hope in that nothingness. 300 or so who potentially might care is pretty good, even in a really dumb place. After all, they defeated the Persians and more importantly inspired a really lazy meme that prospered among the same sort of people.
Porridge, I spent three weeks writing some mopey introspective thing like that for a class that is now done. I don't need to recreate it here. I may pull out some relevant bits and impose them on you later. I had to turn that in precisely when it was due. Bimshwel is never due. Bimshwel is not concerned that I acknowledged such a major anniversary a day late or that I talked about other websites than it the whole time. I broke its spirit years ago. It may have shamed itself into forgetting what the day was. You probably didn't know either. I could say it is today, and nobody but me would know. I miss every birthday in my real family; quite finkly it would be rude of me to make an exception for this distasteful abomination.

I spend too much time thinking about nonsense. I am three years older than Napoleon and my realm is pitiful. But I maintain my composure because these are trifling issues. I don't need to be the "best." I have a narrow appeal, since I have such difficulty or unwillingness to latch on to other people's gimmicks. I am not a winner. I am not good enough at anything that enough people do to have a contest over to even compete for the victory. I might have a chance of winning a contest whose goal was to be me, but if there were other people who could conceivably be me then there would be no point to it. I am as isolated by choice as necessity. And that is perfectly all right. The sooner I accept that the sooner I can enjoy my existence. The needless jealously and pointless aspiring to meaningless smalltime niche digital fame cease today!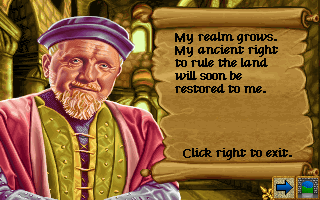 ARRRGH I'LL GET YOU, YOU INTOLERABLE GINGERBREAD MANNEQUIN! YOU THINK YOU'RE BETTER THAN ME JUST BECAUSE YOU DRAW POKEMON AND HOMESTUCKS AND CLEOPATRA 2525! I'LL BEAT YOU I'LL SHOW YOU! I'LL LICK THE WHOLE KABOODLE USING JUST MY NOODLE! MY ORIGINAL DERIVATIVE CHARACTERS ARE (C) ME!!!


I SHALL AVENGE THE MARSHMALLOW PEEPS SLAIN TO MAKE YOUR CLOTHING! Come to me, winged cronies! I have been slighted! Do my bidding and I'll give you *hugs* with lots of extra asterisks on the sides! Otherwise I'll know who my REAL friends are! I need to clean out my watch list soon HINT HINT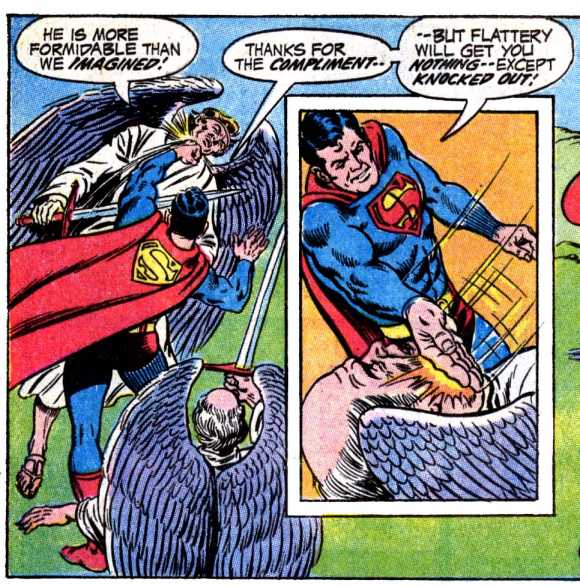 My hubris shall be my downfall.