August 22, 2013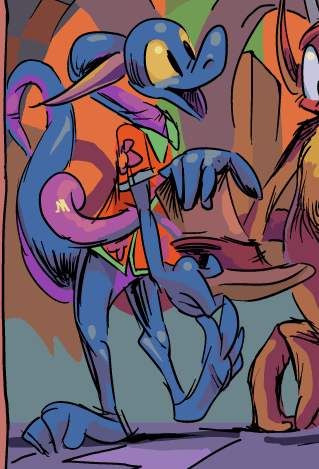 page 56
of
the bimshwellian comicoid.
due to unusual logistical matters i started drawing this one before i had colored the previous. In fract both were drawn before I went to Paris; my hope was to work on them while there and like most of my hope for the trip it was invalid.
How did the fringo club get back to its starting place in half a page when their outward journey took 2 pages? Simple: I drew that it happened.
I might be overdoing the "perspective" forcing, especially since there are only three things in this comic that I know how to draw: imps, geometric shapes and vegetables. Implying that I can do more than that makes it more obvious that I cannot.
i removed the coat from nemitz because I kept forgetting to draw it, and then having to erase fur-edged arms. The same with the hat, which I retroactively declared had fallen off by its own power on the previous page to keep me from having to re-evaluate what mits horns were doing.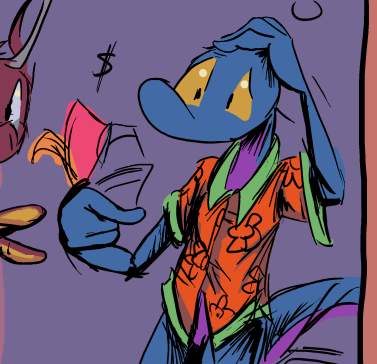 I realized rather late that I don't know what "money" looks like. I drew it as paper first (hence dumb mitz lunging for it (with that opportunity removed it now seems probable that nemitz ate its hat and coat)) but when coloring it like monopoly money decided there was no reason that it should be paper, except to make it instantly recognizable as money when it is displayed. next I drew it as gummy bear-like objects but they seemed too small. I settled on little balls of fuzz when I thought of it and laughed at the idea. I had the elpse creature say "monsy" instead of "well" in that frame since that was now no longer evident from the image. I may have to change them to bigger balls of fuzz if they still seem awkward when I review the frame for attachment to the next page, which has
not
been drawn yet.