October 13, 2013
You might have noticed some strange rubbish going on above here. Somehow merely explaining that proved too great a task for me to do in a week-end, so I will try again on Monday.
———————————————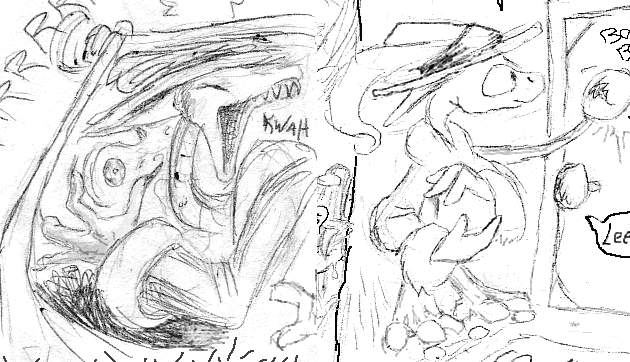 Ah-ha I see. I don't just draw over the pictures from before because if I put them in different places or change the dialog, things are not guaranteed to fit properly. Also, in those mold days, when the lizard creature wore a coat, I drew the coat first without planning a body beneath it, and this lead to implausible proportions, sometimes almost monstrous when I didn't draw the feet. Adding feet made the creature inexplicably small. Neither form consistently had legs. Clothing that forms its own body can be used to good effect, but I was not doing that. The stupid car was worse, and is still awful. It will always be awful. You could even make the case that it looks worse than it formerly did. I like the colors, at the least.
By this point I have removed most of the dialogue that I thought was awkward and the "story" fragments that did not make sense. Now the task is to find a place where this can link with the existing pages, though some of them need to be enlarged or have their text made more readable. But at least nobody is going to abruptly give up because the pictures were grainy uncolored pencil drawings (after one more of these). Though someone willing to put up with that because they found the material engaging in some way despite being ugly is probably someone I should be glad to have around.
I hope i am not expanding Treco's part too much and wasting responses and actions that would be better used for subsequent "encounters." There is probably a limited amount of things that arms stuck to a chair can do and still seem interesting.
I have become aware that the last row's lines are less conspicuous than on the rows before it. There is a perfectly good explanation for that.