March 16, 2014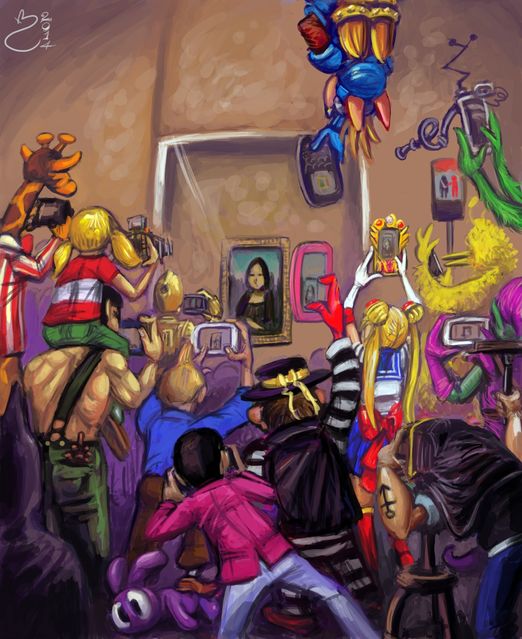 This began as an attempt to recreate what I saw when I visited the Loovruh museum in Paris, which was a very odd sight: dorks and morons alike crowding into a huge room full of huge paintings to fixate on one that is very tiny, and make terrible blurry reproductions of the most reproduced and easy-to-acquire-perfect-reproductions-of art works perhaps in history. Somehow it was not odd enough, and things went strange as I was adding details.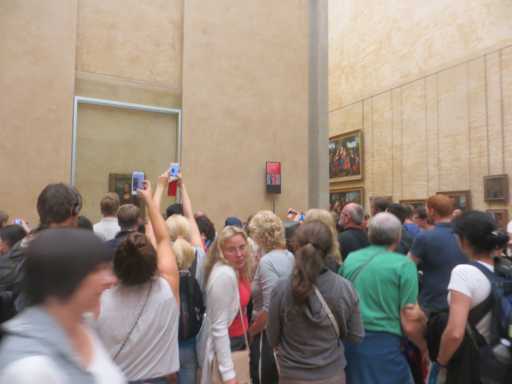 So I have fixated on irrelevance to such a degree that it subdues and consumes the original point of what I was doing through overthinking and overworking. It took three times as long as it should have and means nothing, and still looks incomplete enough that I might dump a few more hours into it. Good to know I still got it!
I mean to say that I still have it.
$$$$$$$$$$$$$$$$$$$$$$$$$$$$$$$$$$$$$ (it is an expensive painting)
An updehhh from July 4:
In the event you were curious how a decent idea becomes clownish rubbish, look there to see the odd path this took to be "finished!"
One of the figures in the sketch I drew inadvertently kind of looked like Tintin and that was somehow enough to ruin it all. What surprises me now is that I reversed the direction of the battleaxe on the inadvertent tintin figure prior to removing the axe entirely, and that removing it was one of the last things I did.
Also, if you can identity the characters I started to draw in the seventh and eighth slides then you win a schnibble because after momentary reflection I thought no one would be able to.