March 20, 2014
I expect I have alluded to this before, but may have never properly addressed it: Cracklin' Oat Bran.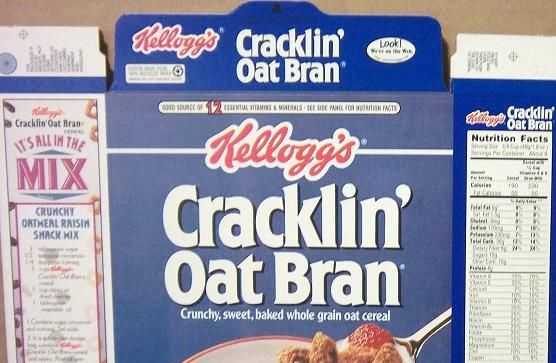 This box design has not been in use for some while, but provocateurs still attmpt to push the agenda by
distributing empty boxes
through trusted commerce channels like ebay and dumpsters that have not been cleared out in 15 years. The decision was made to remove cereal from the box not because it would be inedible a decade and a half in the future, but to reduce the weight for shipping, with the expectation that buyers could reclaim the exciting breakfast experience if they wished by eating the box.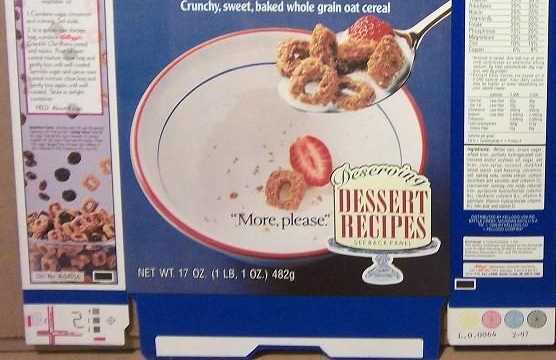 "More, please."
This is supposed to be a cereal for adults. Get your own dang cracklin oat bran. And for heap's beep there is a G at the end of "crackling." The first meal of the day and you are already slacklin' off in multiple unrelated ways.
"More, please" is no request. It is a demand. The "please" is totally disingenuous. You are liable to be banished from this cruel Victorian workhouse with that sort of entitled attitude!
And that strawberry slice is a work of fiction; I have eaten fruit with cereal before (you are surprised at my adventurous tendencies, no doubt), and the distribution never works like that. Only with cautious planning is there enough fruit for there to still be any when the cereal runs out, and my boss here was not even smart enough to take a promotional photograph of a product with the product actually in it. I think this cracklin hobo has actually not had any cereal yet; there would be more crumbs than that, and plenty of unsightly white goop residue. If this were authentic I would not be able to look at the bowl to make such an analysis. But the bum didn't even pour it out the first time. I could understand demanding more if you had painfully exerted yourself to fill the bowl, and that was your accomplishment for the day, and you now qualified for assistance. Trying to trick me by cracklin' a few oat branuloids into an empty bowl and cutting one strawberry into half is disgraceful. You think I do not use my oat brain? You think I am using my
raisin brain
today? I am not such a tragic case!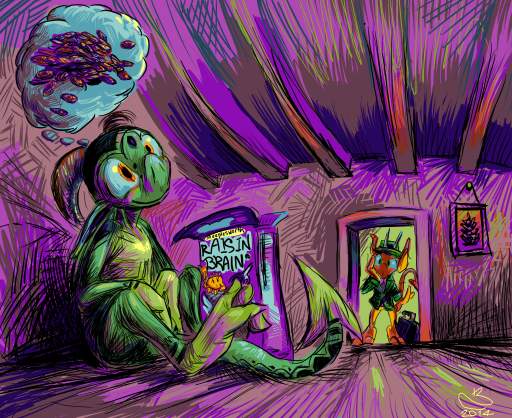 Well there you go. You should never have gone. Another home wrecked by raisin brain. Could someone
you
tolerate have a raisin brain addiction? I am disgusted that you put up with that!