April 7, 2015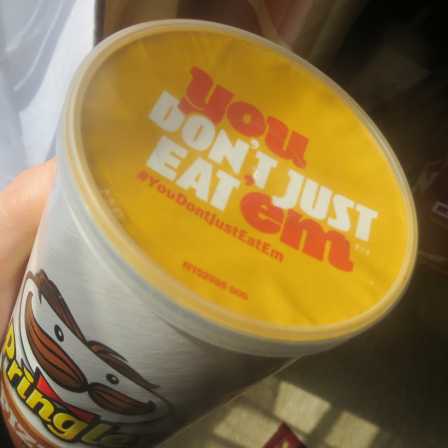 "You don't just eat 'em" is the trademarked slogan for pringles brand potato crisps. What does that mean? I thought eating them was the extent of my obligation if I came into possession of them, but apparently that is inadequate. And like many rules of society, the further expectation is not explained. What else should I be doing with these not-quite chips? Is the moronic "duck mouth," which dominated the brands' 1990s advertising, and which nobody should ever, ever do, now compulsory? Am I supposed to build something out of pringles? Is Kellogg, who purchased the brand from the Proctor and Gamble company in 2012, with its greater investment in remotely nutritional products, looking to instruct me on the full function of my digestive system? You don't just eat em, you digest and excrete em.
And yet the ambiguous grammar of conversational english makes it difficult to determine if this is instruction or merely information. Sometimes an orator says "don't" when one means "shouldn't." This may mean you SHOULD not merely eat Pringles. Be a responsible citizen; recycle the can afterward. Make a a kaleidoscope or store your travel toilet brush in it. Keep one as a blank round for a t-shirt gun and another as a marital aid for any medium-sized ungulate you are keeping (whose marriage is in need of aid, obviously; I would be practical, not lewd). Or perhaps this means that you should not eat Pringles without adequate preparation. Don't just eat 'em, consider the risks. Ask your doctor if Pringles are right for you. The Pringles virus may already be inside you.
I have been out of the pringle game a long time, so this catchphrase, arriving in my presence without the context of a greater advertising campaign, has me somewhat bewildered. I stopped buying them when the company stopped putting fake little green things on the sour cream and onion chips like every other company does. Not that, in my experience, pieces of real native onions are ever green, you, the producer, have cultivated me as an american consumer to expect certain things without considering if they link up with reality, especially with regard to the color of things I put in my mouth. Grape is purple. Dew is green. Cheese is orange. Sour Cream and Onion chips have little green things on them. If you suddenly change a color or remove a component that contains a color, I need to know why. Otherwise I start wondering what those green things are or why I would eat "sour cream and onion" ANYTHING. I will not consume actual sour cream. I always make sure it is not in my burritos. It is essentially the Mexicish equivalent of mayonnaise for joints that never kept up on their trendy fees enough to have been issued chipotle mayonnaise. Disgusting white goop needs to be in all prepared food. They invent new names to make it harder for me to ask to not have it.


Now "aioli" is the unexplained mystery ingredient but I am not fooled! I would not even eat Aioli pringles.