January 18, 2012
=============================================
The thing that is currently blocking wikehhhpedia is really wimpy and easy to turn off. Or am I missing the point? Or does my going to wikipedia with the intent to see what its blocking measure looks like and if I can get around it exhibit a fundamental missing of many potential points of my existence?
============================================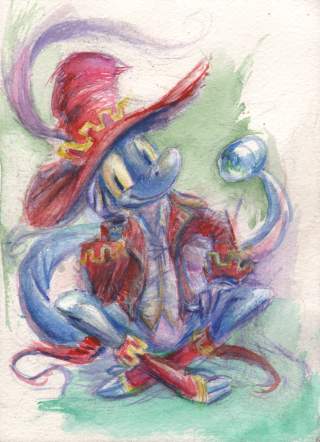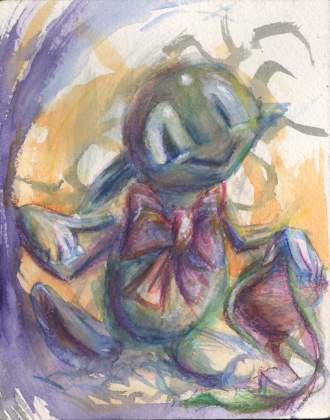 I recently learned that some people were blacking out their internet in protest tomorrow of SOAP, the notorious remover of blessed and peaceful blackness through the centuries. Well it's about time I say. With that in mind I upload some particularly grimy watercolor objects from last year, confident that as few people as possible will see them. Although I keep up the fight every day by washing my hands in the dark, I'm used to people taking years to catch up to my trendsetting ways.
Notice that neither of these is doing anything but they're both not doing it in approximately the same fashion, and both deserve our harshest retribution for it. The one on the right is probably only slightly worse.
Every thing it does is an atrocity. Every act is reprehensible. Every deed is dirty. The bow tie animal could be one of the spaceballs. All it does are dirty deeds. This is interfering with my right as a citizen to protest cleanliness. It is outrageous that that THING is still on the streets. I mean, it should be on the streets. It should be tossed out of a window onto a street. Perhaps out of several windows onto several streets, and perhaps motor vehicles will more closely acquaint the animal with the streets. It's THAT bad. The thing is horrid. HORRID. horr-id. Can it be stopped? I honestly do not know. Every day it gets horribler and horribler. Truly it is atrocious. Can anything really be THAT bad? Yes. But a little stupid animal? Yes. Do not give it any appreciation. Do not even pretend, to get it to shut up. It will not shut up. It's so dumb it will think you mean that and think that means it should continue talking about its bowtie or its feet or whatever stupid thing it might talk about. You can only win by not letting it win.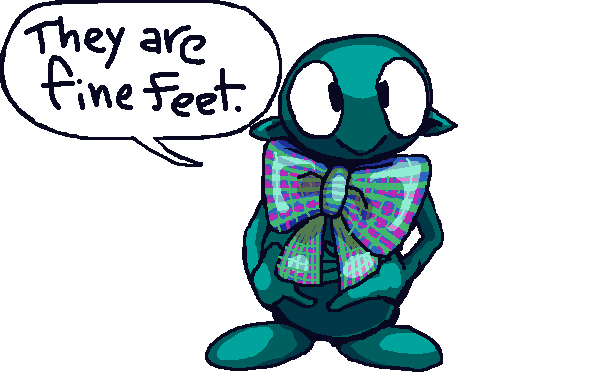 How about this: I'll cut them off and toss them in a field and then you'll have to find feet. The bowtie animal is a bozo. i would call it a bonehead, but i suspect it lacks a proper skull. It looks too punchable to have a skull, and if it has a brain surely a skull would have prevented the extensive damage which has no doubt occurred. Oh mushrooms I'm over the deadline by a minute. Now I'm a traitor and don't support not supporting censorship. All because of feet. In fact I do support censorship but primarily of the elements close at feet at hand.

I know pretending I think SOPA is "SOAP" is really lame and obvious. I assumed it was, thinking I might have a decent angle on it. However, I legitimately do wash my hands in the dark and like imposing my weird habits on people. I have showered at least twice. Interpret that sentence any way you like.
This is a primary reason why I talk about pointless topics others don't care about; I can have all the dumbest jokes to myself and not be concerned what lazy idiot I've never heard of already did it poorly and annoyed someone else I've never heard of in some never ending, never starting MC Escher gauntlet of unplacatable judgment of crimes which don't matter (stop me if someone else on the planet has mistaken Escher for a rapper from the 1980s at some point in history). In fact the less people I'm aware of, the less I want to scream at. I'm a worse judge than anyone and can't handle it very well, since I'd rather not yell at anyone louder than me. Additionally, when I see "hurr" or "derp" in a simulation of another human I lose my ability to consider it in a rational manner.