October 20, 2015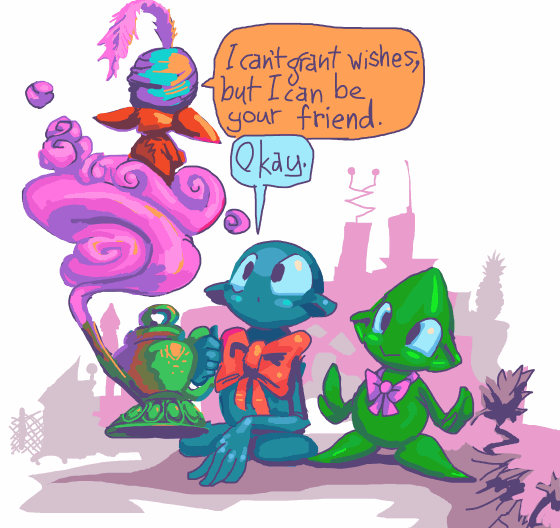 On the topic of
terrible genies,
I would NOT be friends with some dumb big eared animal genie that could NOT grant wishes. I would not be friends with any big eared dork that would voluntarily be friends with bow tie imps. This genie has failed in numerous ways. True enough, bow tie imps should be prohibited from having their wishes come true, since they would only wish for everyone to respect their bow ties and to also wear bow ties, but not larger than their own. I am rage-filled! Can I wish for the bow tie imbecile to get stuck inside a lamp without it receiving consolation magic powers?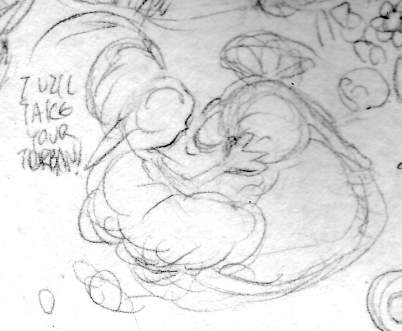 Oh right (wrong), I was complaining about this thing. What a pathetic dajinni! It has to carry its own teapot! Why is it wearing a HUGE turban? Does it think it is exercising religious purity? Does it think it will attain salvation and that I will be cursed for eternity because I do not wear a turban? Does it think it is better than me? Arrrf I want to wish for its freedom just so I can trap it in a box. But it can't grant wishes!
Guess what, frimp: the gods have forsaken you! They made you live inside a teapot and have smoke for legs. You can only come out when somebody deliberately lets you out, and the only person who WOULD let you out would be something just as pathetic and meeply as you are! And worse, you were made you into some dumb unholy animaloid instead of a regular unholy human. You wear a turban as an accessory only and are therefore guilty of cultural appropriation, which according to the internet is problematic.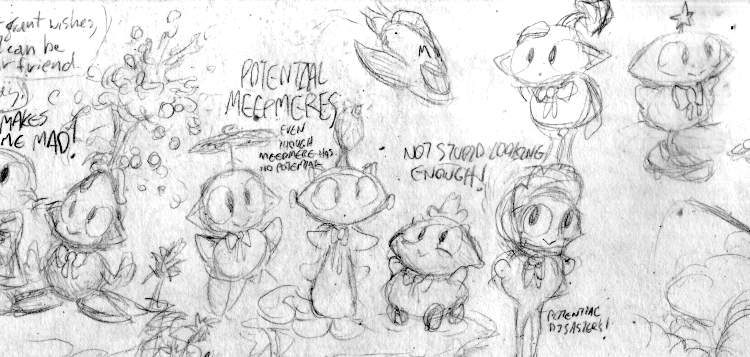 Regarding bowtie imps, some years earlier, I recalled a fragment of dream after awaking, and it featured a pathetic little creature correcting me "not meepmire, meepmere!," as I had evidently mistaken it for the initial bow tie fool, "Mortimewde Stapleton Meepmire."
To respond, first of all, I will call you whatever the meep I want! You're lucky I even chose to get the first part right! Everyone hates you! Foul, wretched meepmere!
I could not recall the exact nature of meepmere and struggled to visually depict it. I can't remember the last time I hated a beast so much before I'd even seen it. Unlike "meepmire," it doesn't even have a first name. It just is meepmere. It is a cut rate bootleg version of meepmire, despite having no legs, just feet, thus rendering it incapable of wearing a boot. Do you have any idea how hard it is to be a low-budget version of rubbish?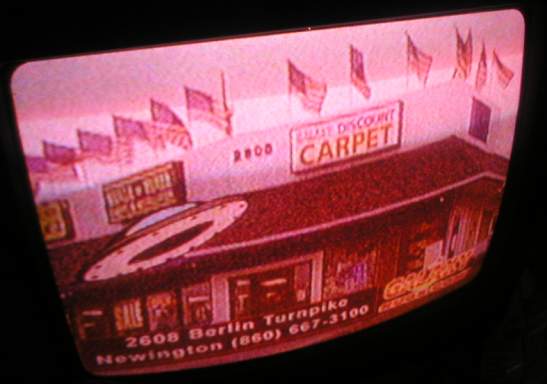 Stupid 2 cent garbage disposal animal. At one point in the pre-meepmere era, roughly mid-2005, back when I owned the world's bloodiest television box, an advertisement for Galaxy Discount Carpet was repeatedly aired on local television, featuring a corny un-animated space ship floating through a real rug store accompanied by appropriately corny sound effects. Try and imagine the horror if you were standing on the street and you saw THAT THING appear from the sky and come toward you, totally unanimated. Would you shop at a store that IT shopped at? I was known to remark, possibly involuntarily, "AHHHHH TOO CHEAP! IT COST ONE CENT TO MAKE!" repeatedly in an incorrigibly high-pitched voice that would probably scar my vocal cords if I tried it now, thus making Galaxy Carpet the only thing that costs less than meepmere. The people responsible collectively received half a meepmere. The question, then: was it the meep or the mere?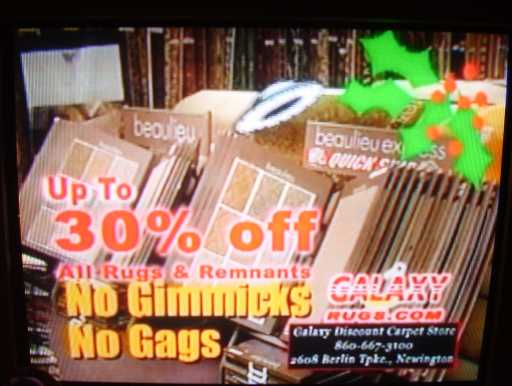 During december the ad had a likewise cheap holly leaf overlay, that I will argue did not raise the budget since it was most certainly pulled out of someone else's trash can. I understand that I am meant to be enamored with the cheapness, to assume "the carpet prices are surely also low!" but I don't think I would want a carpet which was THAT cheap. It is probably made out of seaweed and diapers.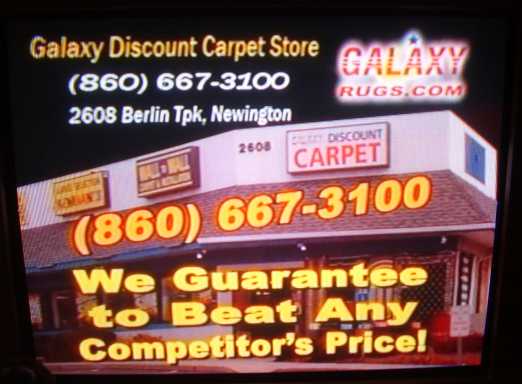 Galaxy Discount Carpet is SO cheap that its website has a different name than the store and they just figured oh well and displayed the wrong name directly beside the right name. They guarantee to beat any competitor's price on the money they spend on advertising! They thought I would be impressed that they aligned the second, alternate-fonted instance of the telephone number to the roof, even though it only matches one of the roof parts that it touches. That phone number has no idea how cheap it is. I bet galaxy carpets don't even fly! Perfect for today's genie to keep inside its forbidden cave. The cave is forbidden because it is too stupid.
Some people get epiphany, life changing, prophetic visions in their dreams. They become inspired to create great paintings, novels and symphonies. All I got was MEEPMERE. And then I had to figure out what meepmere was! What a chore! Meepmere thinks it gets to control my life like that? Meepmere is sub-pumpkin! That genie probably started out as a meepmere. Meepmere isn't superior to a doughnut! That is why in my completed displayable art there are two pictures of doughnuts and no meepmeres. I do not even like meepmere on a leap year. Meepmere is among my least favorite meeps, and I hate a lot of meeps!