January 7, 2017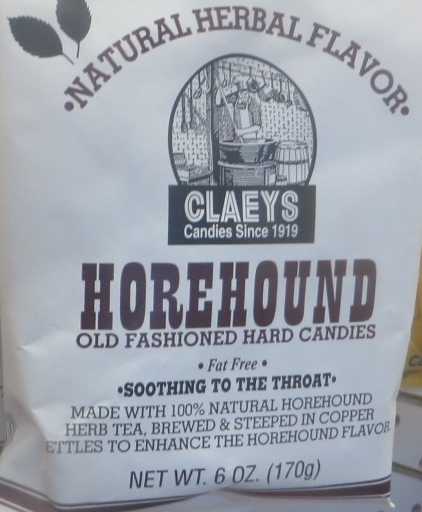 What the horehound is horehound? The look of this packaging makes me think the company only chose this as a flavor so they could act wise and worldly by elevating themselves above people who have never heard of it. "Why, you've never heard of horehound? Well sit right down there and let me spin you a tale." I hate the word tale! Why do people have to talk in ways that make me mad!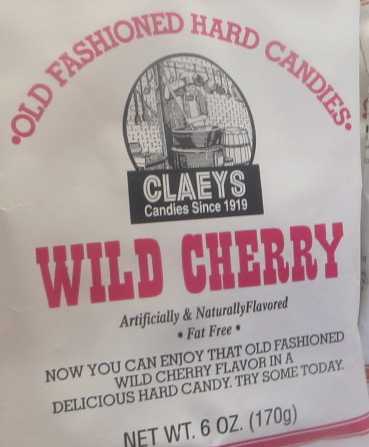 Well mice it is about time. I can finally end my hunger strike. Because you know apparently i couldn't have "that" old fashioned wild cherry flavor before (No not that one, the other one). Or maybe I just wouldn't because cherries are terrible, and artificial ones more so. Cherry pies are cherrible. Strawberry is much better. Even raspberries and cranberries are better. Certainly I doubt old fashioned fake cherries are more pleasant than new fashioned ones. This probably tastes like Robitussin. Arrrf i can hear in my mind the deliberately, proudly glib bland appalachian announcer telling me to "try some today" without a slice of emotion. This is supposed to appeal to people who see billboards for Cracker Barrel that say garbage like "Come in and sit a spell" and think "now that's REAL america."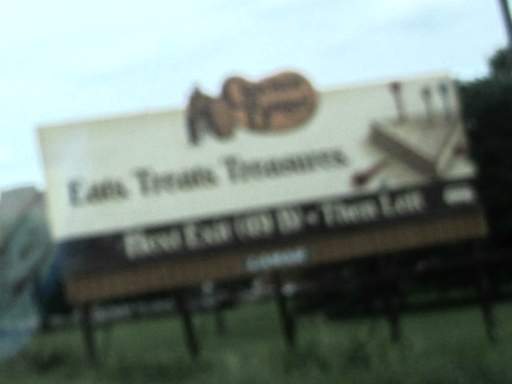 This one said "eats, treats treasures," and the treasure is apparently their boring peg jump game. It is an interesting thing to have at your table, I suppose, for a restaurant, for three minutes, but nothing that entices me to pull off the road. My camera refused to take a better picture under threat of throwing itself under the wheels of the next truck that came along.
Here are better pictures that other people took using cameras with less self-respect.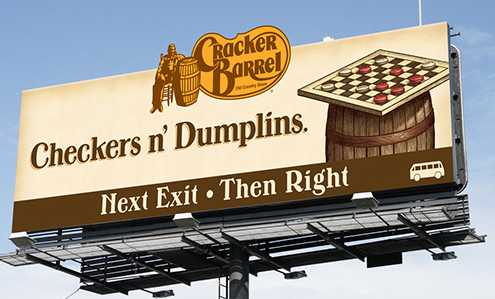 Hey you driving a car presumably to a destination, wouldn't you rather, instead of doing something with your life, like to stop and play a game of checkers over a storage container while the anxiety that you are wasting your precious minutes of free time on something that takes forever and is boring slowly burns away at your last scrap of sanity? It's like living with a toddler on purpose forever. Please observe that n' has an apostrophe but dumplins does not. The barrel is gradually crackin' away at our language so that it becomes not necessary to acknowledge when you spelled something a stupid way on purpose.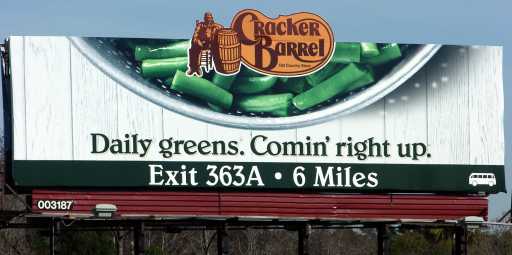 Wowie al-zarkawi, I get to PAY to eat GREEN BEANS. Or maybe I just get to pay for the right to strain them. Gosh I am supposed to believe this ad won an award. I think it was the bored award.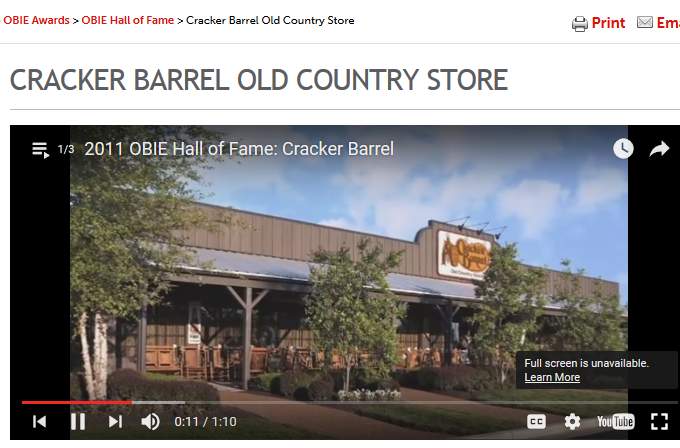 Cracker barrel is so cutting edge in being deliberately regressive that I cannot even make its terrible video full screen. Can't have me stealing their secrets after all by seeing their logo at a legible size (But I can play its depressing banjo fiddle music as loud as I want). Yeehaw let's have a hoedown at cracker barrel. Let's all settle in for old fashioned country cookin' and dysentery. Let's eat like we live in a covered wagon –excuse me, waggin'– and don't have access to anything that is designed to stay edible in a non-refrigerated environment. Biscuits again? Oh boy oh boy oh girl get in the kitchen.

cracker barrel is really rackin' em up. Here its nationally distributed supermarket cheese that is most of a certainty constructed in a thoroughly modern factory facility has won an award for another cheese having won an award. You might say: hold on there skrimpfy, the cracker barrel cheese brand is owned by Kraft, and unaffiliated with the restaurant chain, which it actually predates, and that only isn't obvious because the Kraft logo disqualifies a product from accolades of any sort. And I would tell you for beets sake stop calling me skrimpf five years ago!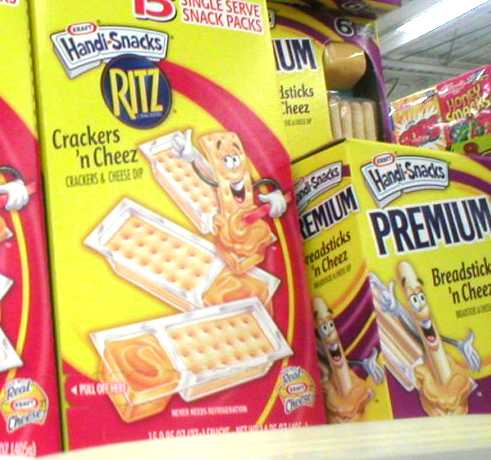 The very same Kraft which coonskin cap pioneered the Creep 'n Crackers self-application process. They will need a barrel to carry all the awards this deserves. Hopefully not the one I am hiding from them in.