November 2, 2018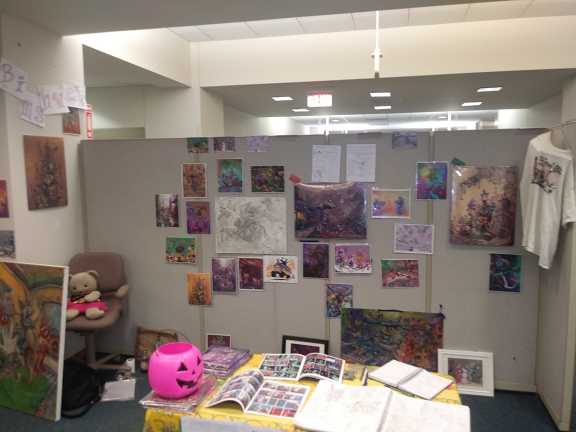 I ought to directly acknowledge the City Wide Open Studio Alternative Space Weekend Fantastic Marvelous Mystical Hoedown because anyone I gave a card to will, like on any other year, come here, just see a random web log and think I am not serious about art. I am! Just not about organization and web pages.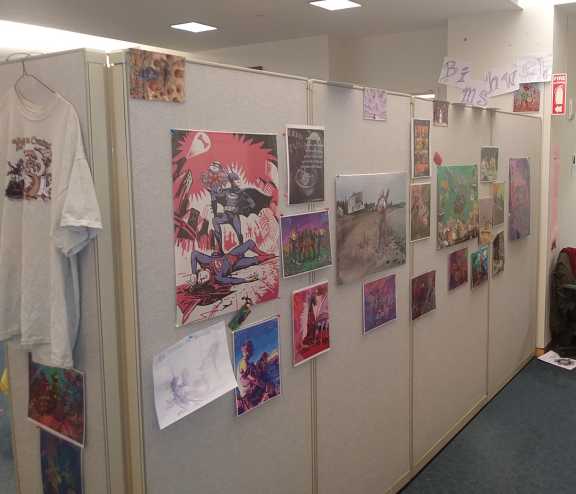 There was a great amount of positivity, even though I had some jealous points amidst that. That was less pronounced than usual. It is nice to be able to have things up for three days and there be a chance of somebody really liking it on the third day, to not be beheld to the social media "three minutes and you're out if you don't get a retweet" general way of things.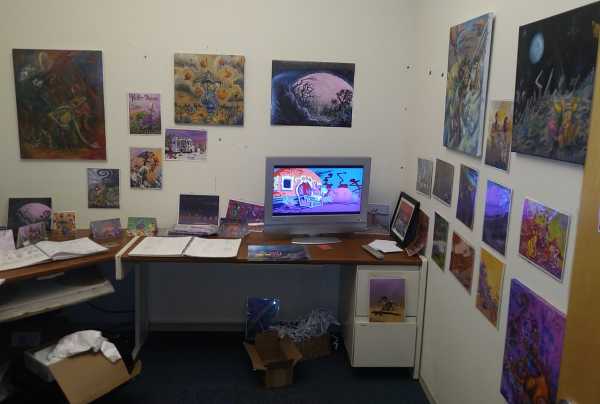 For the first time in years I felt like maybe there IS a chance that, provided I remain dedicated to improving, I can get by on the merit of what I do, independent of my [in]ability to like irrelevant junk that happens to be new or deemed topical by unaccountable parties. There was on the premises, particularly on the second floor (though several of the best things I saw were also there) plenty of material that I thought was derivative, low effort, or flat out disgusting, and deliberately so, but it had no power to follow me around and be the first thing i saw each day, via algorithms or people who aspire to be algorithmic, and thereby causing me to react to it in a regrettable manner instead of concentrating on my own business, beyond this spiteful paragraph here.
I feel more in control this year, building on what I started doing in 2017, when I stopped accepting advice as to what sort of exhibit I should have, and dispensed with frames, which cost extra money, are heavy, and need carpentry and post-show repairs which do not suit the skills I have and result in less time and space for more art. I only hung up canvases where there are unsightly nails and screws already stuck in the wall, which there typically are. I don't believe somebody should have to pay 50 dollars if they just want a copy of a picture of dumb old nemitz for some reason, until such time that the preference becomes a criminal act and subject to fines.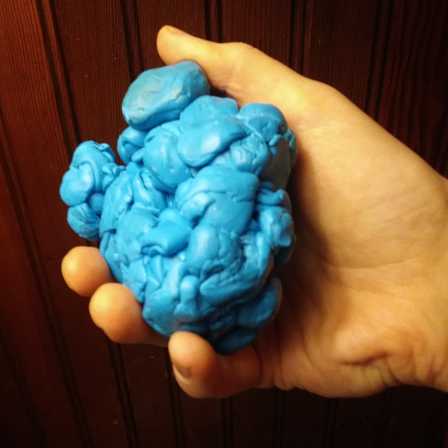 My ball of used blue adhesive gunk. Compare to my ball of used blue tape from 2017. I stocked up on the glop because it is reusable, not expecting to be "stuck" with oddly textured walls that it did not adhere to well, which necessitated that I acquire pushpins. Or use more tape. Nonetheless I used quite a bit of the muck. And I will use it again!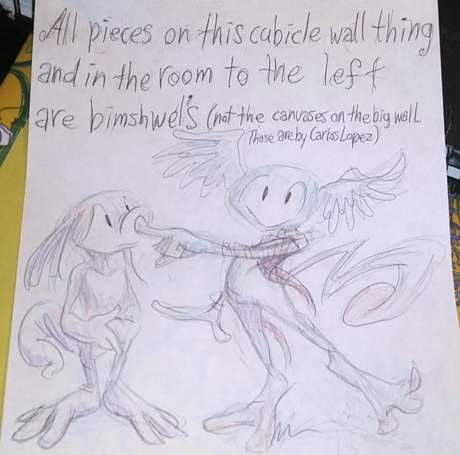 I must give special appreciation to
Carlos Lopez,
another artist displaying near my position who had a more solid skills, a professional setup, apparent business interests outside this dinkity art show and nothing really to gain from being nice to me, and even with me griping probably audibly from the moment I laid eyes on the space I had. He tried to direct toward my zone people who might not have looked otherwise. And I could see that plenty wouldn't have, based on how things went when I was out there alone. It is rare to be appreciated by a dedicated artist who isn't trying to push me in a regressive direction or selectively ignoring me until such time that I drift into one out of desperation. I do not know if we will meet again but it proves that I do not have to be alone in these things.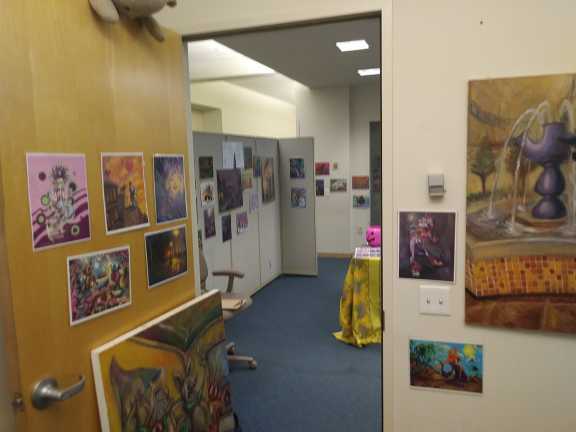 I made twice as much money in sales as my best previous occasion, although it was less than half of my expenses for the event. However some of what I paid the most for, such as comic books and poster prints, will still retain whatever value they may be presumed to have if I manage to not wreck them long enough for somebodies else to want them.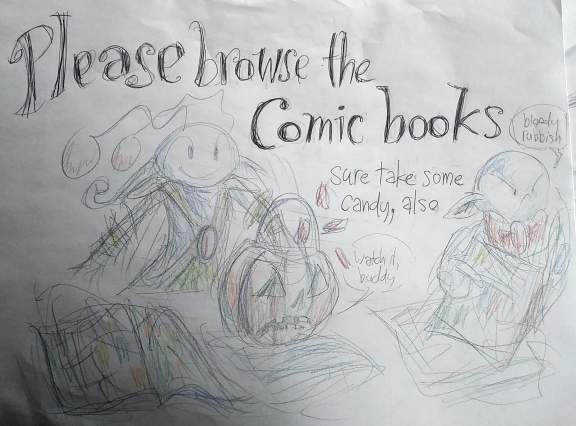 this instance of mortimewde stapleton meepmire (bow tie imbecile) is likely saying "bloody rubbish" because the one in the comic book is not discerning enough to say things like that.
What measured "success" there was I think owes a bit to the comic books, which is a great relief. Anybody can put out one comic book, but having two shows that whatever barely disgestable nonsense is in the first one wasn't just coughed up on a whim with no plan. It WAS but a plan gradually appeared and I spent much effort retroactively applying it!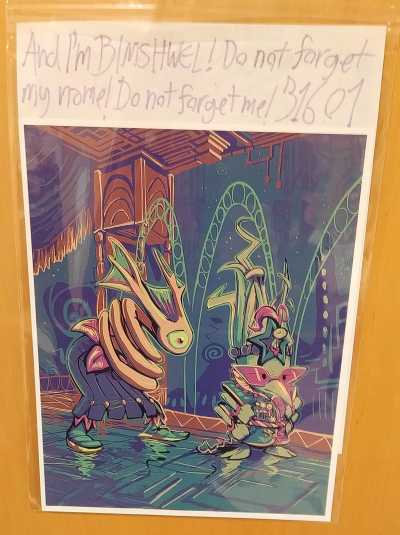 I spent much of my exhibiting time making up signs to try and explain circumstances of the matter that did not or could not have occurred to me before-hand. This is the only one that was not able to be recovered afterward; it was posted in the less commonly used elevation machine to alert people trying to avoid the regular elevator what room i was showing things in. Of course the actual numbers at the rooms are hard to see and almost impossible to guess a location from seeing without the room. The 3 ought to alert you that it is on the third floor, but it might not. Apart from that, in the moment I thought I was making a clever Les Miserables allusion, and then after writing this out realized it could have been cleverer: had I written "My name is Bim Shwelbim… and I'm UPSTAIRS!…" But beyond that, I don't want people to come see me based on my ability to reference broadway since it has been thirty years since anything went on broadway that I would want to talk to anybody about and I do not have a broadway themed gallery. I would not want people to see me based on my ability to reference anything since witnessing 20 years of fanart and obnoxious "mashups" on the internet has soured me on the idea of personal expression exclusively via recycling other people's personal expression. But doing it once in a while is fine.
The print seen here was made improperly so I was not sad about losing it, though I prefer to think somebody wanted it and took it, rather than it fell off the wall on sunday and was disposed of before I returned monday to finish gathering my other material.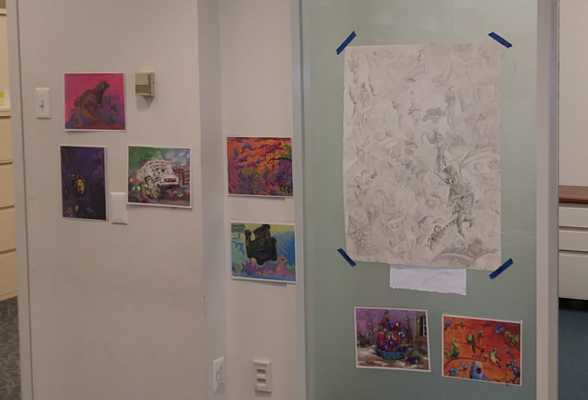 This pencil drawing
here was in fact stolen once, back in 2012ish at Southern Connecticut State Universitoid, in the area where you would wait for a car. I was waiting for a car, but had to visit a restroom because we had not met up in a while. And the natural instinct when you see a school project at a school unattended for three minutes is to assume it materialized on the spot and belongs to nobody and that there is no possible means through which to confirm that. I wish I could have met whoever took it to thank them for making me feel like there was some level of demand for what I was doing, but the campus police did not provide contact information and my expectation is that having something confiscated by campus police would make you disinclined to meet the person who presumably demanded that occur.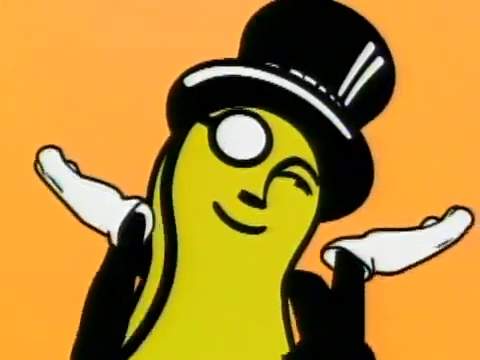 Oh beets this is trailing into irrelevance. I mean to reserve that and my complaints for a second, separate post, which generally means I will never get around to making such a post, which is probably for the best!
This pat
addendoy for september 23 2019: what does "This pat" mean? I have no recollection of what statement I might have been starting on. Maybe that is part of the large section that I removed. Yes probably. I do not know where I would have put that and do not know where to start looking for it nor consider it a matter of great or even mediocre importance.