July 17, 2019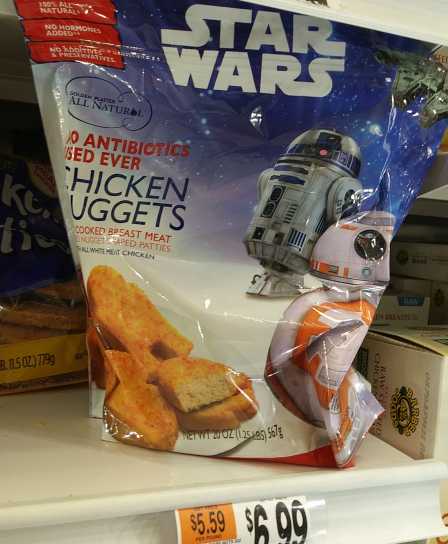 Star Wars chicken nuggets. Why not call them womprat or tauntaun nuggets with "chicken" in small print beneath to at least make some pitiful attempt at justifying this latest needless dilution of the already plenty diluted star wars brand? (Gosh even star wars the food brand is diluted.) Because star wars is now "family friendly" and it would be evil to consume space animals? Is it just easier to depend on existing cognitive dissonance as to where meat comes from?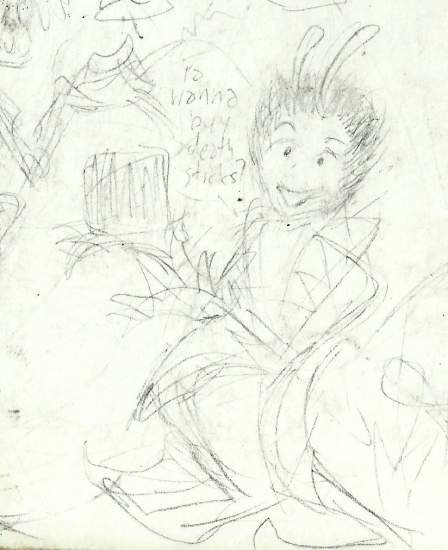 I realize that there was a dork dealing "death sticks" in the clone attack film long before disney became involved, and that star-wars themed unhealthy food is nothing new,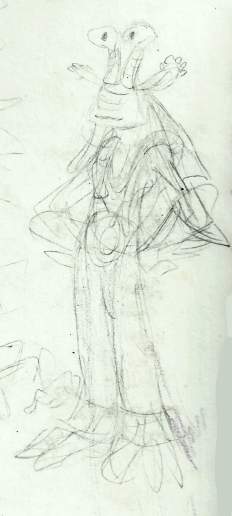 but EVERYTHING in the prequel movies is stupid, and there is something campy and [to me] endearing about the likes of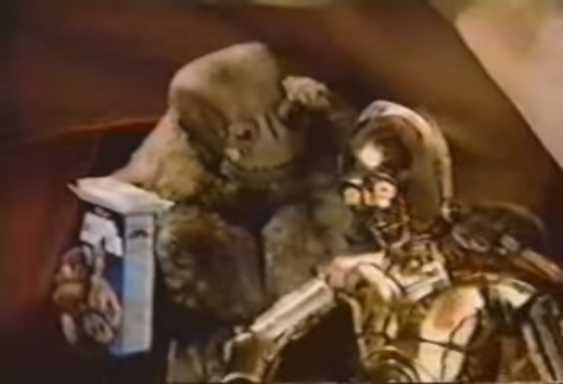 c3p-Os. At that point Star Wars was still fun and George Lucas's head was not totally up his own rancor pit. But even when Lucas was writing the movies like bad webcomics there was some purity to them and I think it was understood that they could not go on forever. Star Wars isn't fun now. It is "iconic" now. It is like mickey mouse essentially. The emphasis is more on protecting its legacy and pleasing committees than it has ever been.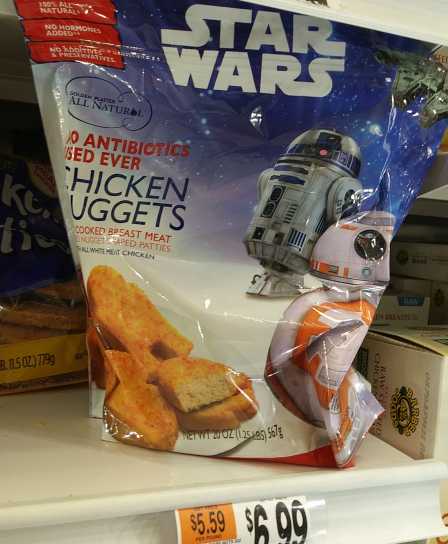 I also cannot help noticing that while r2d2 still adorns products that no celebrity likeness has been procured for, the silly and awkward c3po has been excised in favor of the small and efficient robot bb8, which serves approximately the same function as r2d2 in this context and provides no contrast. That isn't fun, either. And likewise there is nothing fun about these nuggets. They are just anti-biotic-free 100% white meat star wars nuggets. Of course nuggets are meant to be inherently fun regardless of branding and i know from experience that unusually-shaped nuggets can be horrifying, but this is pointless, wasted branding.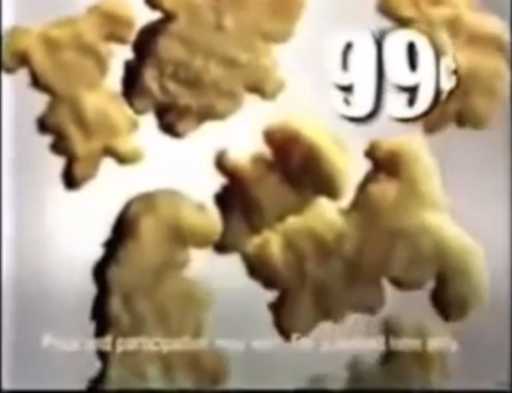 I am referring specifically to the rugrats-shaped nuggets that i mentioned in
this very old post.
I seem to have neglected at that time to indicate that I was legitimately afraid of these nuggets. I might have remembered had I access to a picture of them but
this video
was not on yute-oob until four years later and I sure never saw the ad on television; elsewise I might have been prepared for them to show up. As a fiveteen-year-old i thought I was too smart to watch the cartoons this advertisement would have aired amidst even though I spent hours in AOL chat-rooms, hoarded midis out of Doom wads and all I ate was chicken tenders. (
and coke
)
My father just went to Burger King and among what was procured for anybody else, ordered me chicken tenders like usual because that was all I would eat because I was a horrible child and instead of safe, innocuous mutilated bird flesh, they were these indescribable THINGS. And there was no warning; nobody shows the contents of the box to you before they drop that into the bag. The video indicates that regular chicken tenders were still available somewhere but the Burger King in Branford Connecticut sure didn't have them, just as they didn't have the regular tenders when the shapes inexplicably became dinosaurs a few years prior. But those I probably could tell were dinosaurs.
These
were just scary, whatever they were. The rugrats are already sort of scary when drawn properly. When you have their crude shapes yet further crudely simplified and filled in with a vague orange bready texture, they are yet more so and I want nothing to do with them. This put me off eating meat like no undercover video of factory farm conditions ever could. I still ate them, of course; I don't waste food, especially fried chicken. But I sure had to not look at them. I may even have shredded them into yet smaller pieces so they did not FEEL like those shapes. The argument can be made that star wars nuggets opted to use bb8 instead of c3po because it makes for a less frightening nugget silhouette but I am opposed to creative nugget shaping in general.
Oddly enough rugrats also increase in scariness when rendered with increased detail.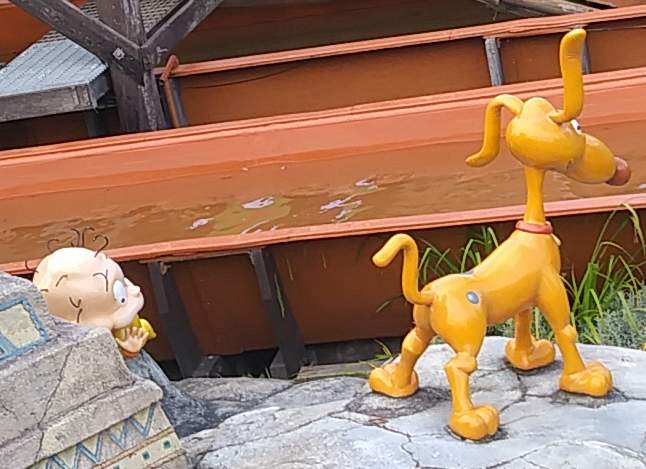 i only took note of these statues when i was leaving the
Pleasure Beach
amusement park in Blackpool a weekish ago, so have only this one picture of them, but what the heap is wrong with the one on the left? It looks as if worm-like parasites are boring into its skull. I didn't have to think about that, it was my initial, only impression. It makes me itch to consider. Fortunate I was that I did not have any nuggets on hand for my dining experience to be ruined with. I don't know how you WOULD render sparse hair on such a construction but I am certain better alternatives could have been found if any had been sought. There is definitely something wrong if i get annoyed with that before I even notice the needless buttockal detail on the fairly detail-sparse dog to the right. But I still noticed and now have drewn attention to it so I will see if I can find another picture of c3po to distract myself from that.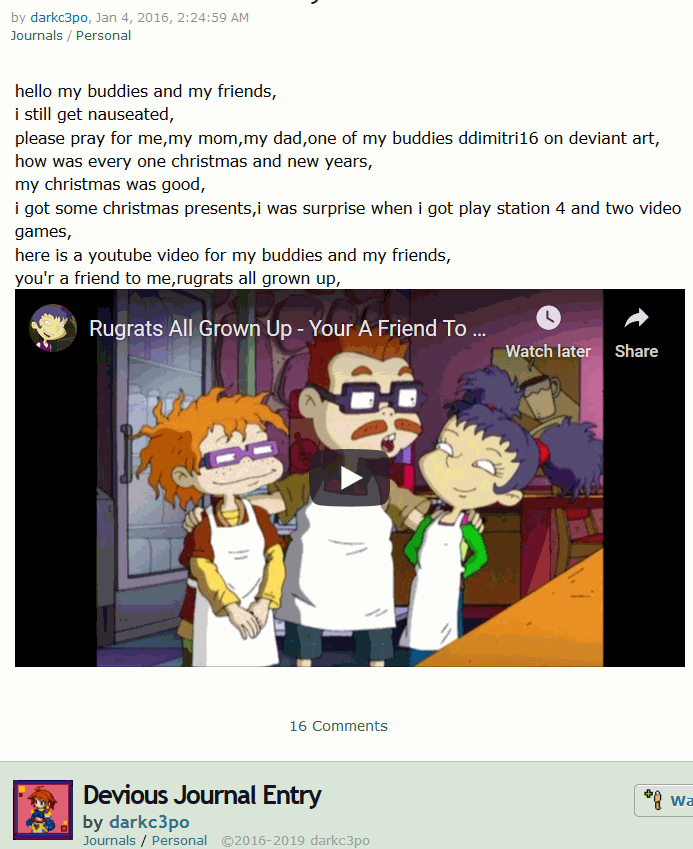 I feel rather let down by Dark C3po.