September 19, 2019
on that page
older version
very older version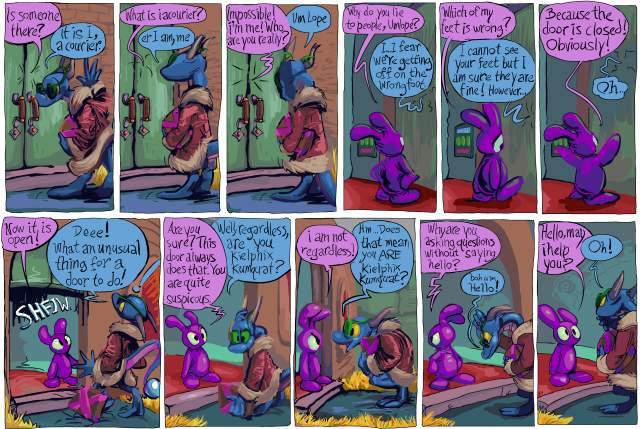 what better way to honor the recently ceased publication that was one of my major influences in artwork and comic strips than by removing the most blatant reference to it?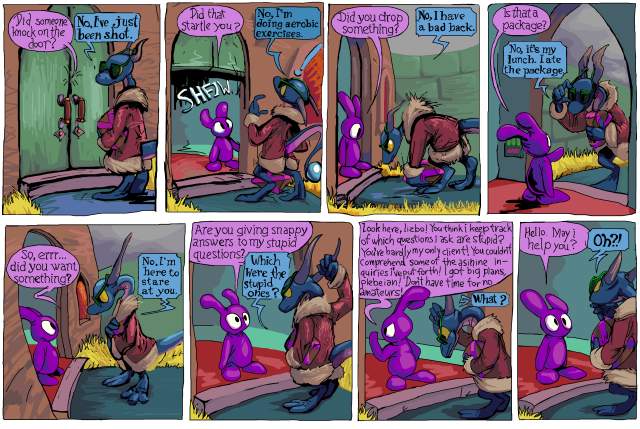 I wanted to renovate the text on a lot of older pages because somebody who doesn't actually care about the comic that i inexplicably wanted to and thought that I COULD impress with a printed version of it, casually suggested to me replacing the hand-drawn dialog with fonts, not aware that I had taken considerable effort replacing fonts with hand-drawn letters. It prompted me to obsess beyond any past level over the legibility of the text in the second book. And I thought while I was at it I should deal with this old thing.*
I have seen some people (other than that one) in person enjoy this section, after being indifferent to the first few pages, but while it works for pog, overall it is terribly out of character for lope, especially when i introduce the concept that without its hat the pitiful lizard will not take bold action. I had worried about this prior to the first printing in 2015 but eventually decided it did not matter. However the more i saw it the more it mattered to me! At last year's alternative space weekend art show, I was telling people who laughed at that page that it was out of character! As if I didn't WANT them to like that page. Soon they will not be able to! Ha HA! That means I win!
And then for christmas last year a different person who I don't know offered the first criticism of that page, which was enough to finally inspire me to remove it. But looking now I see that he is only criticizing the number of exchanges and not the logic of that sequence of exchanges! The person also called the package "the MacGuffin," kumquat "the main antagonist," and pog "his side kick" even though each of those takes longer to type and say in addition to being less specific, and maybe I should not give too much weight to what he says, positive or otherwise. But something good came of it which is what matters [if i am a reasonable person, which i am not]. Also up to that point I always thought of kumquat as the protagonist of that section. Being told the opposite does not mean I have to change anything but it gives me rare insight into how other people might interpret a work that I wrote so long ago that its content has become in part abstract to me. Except on this one one part that I specifically worried about. It works better in an inconsequential pencil drawn comic strip made without a plan, before the lizard was assigned a personality or existence outside of that minor role.
I also ended up having to remove a view of the door that I really like, in the frame where pog says "did you want something?" but obsessive compulsion of course has made this a referendum on the artwork as well as the text so I end up changing a whole bunch of pages, again, I may [mentally un]well end up replacing a blander view of the door on another page with this one.
On a later page pog alludes to one of lope's comments, saying "didn't you eat the package?" which i now also had. I like that line; it only works BECAUSE the question and answer part is so inappropriate. Outside of that interlude it makes no sense for lope to claim to have eaten the package, and it is possible to imagine that you only imagined seeing lope say that, or retroactively interpret that as a silly thing that didn't "really" happen, like when I show inanimate objects talking or transforming between panels, and directly acknowledging that sort of thing is an act that characters apart from pog could not commit without being distracting, and now pog cannot even do it! Tragic!
I have a personal "rule" that no significant part of this comic strip should be dependent on a person's awareness of other media. On a much later page, elpse mentions "an ethnic sidekick from a lame Indiana Jones ripoff," in foreground dialog, but no other character acknowledges that elpse said that and it has no bearing on anything else, though I still may drop that line when I get to reworking that section simply on the basis of my personal assessment that the indiana jones series is rife with lameness and unoriginality already and more importantly my not wanting to imply that elpse, it of green and greenish skin, has a perspective on what is and is not ethnic in movies that don't even exist where it comes from, EVEN THOUGH to ME it is obvious that the INTENT of the line is to have be implicit that the ethnicity of the sidekick is relative to the protagonist, which in the case of Indiana Jones is definitively established, ethnicity and protagonistship both.
Howdy.
*And also replace every instance of "keilphix" with "kielphix" since the second way implies a more accurate, kielbasa-like pronunciation even though i no longer like that name at all and have shown kumquat being annoyed by it on newer pages, which of course means it cannot be changed! Even though only a few pages earlier lope announces that it changed its name from scragthrax so it seems like I am being redundant by having two characters that dislike their given names. However, lope, who is a little bit like me, definitively changed its name, whereas kumquat, which is much more like me, would not commit to doing so, and I likewise have not! ALTHOUGH kumquat lives outside of the law of any remotely functional society and really could call itself whatever it wants, but I only need to think further than hypothetical people who might criticize the comic strip, not ahead of myself thinking ahead of myself. But I will anyway so in four years I will probably change every pertinent page again to have an entirely different name than kielphix and also have kumquat not be annoyed by it.**
**Howdest.