September 19, 2020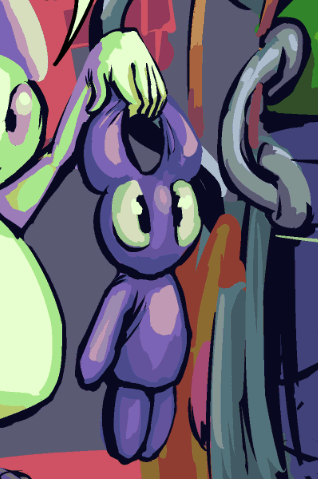 wurf this took long enough.
two supplemental pages
for book 4 of
this,
showing something that is mildly alluded to later, since I introduced the idea of these dumb blobs so long ago without a plan, thinking a plan might arise, and then it never did and I forgot about them for a while. They are placed as 63 and 64 for now just so they will come after 62 but I want to put 62 earlier.
what is presently page 3-01 i may break into two pages since it is too cluttered for what it shows and it may work as 2-65 instead so the book gets and extra page, and then also i can end on a revelation with actual implications rather than the lurking robot since that ultimately is a non-issue.
Somehow it took me two weeks to draw these pages even though hardly anything is happening. The machine design was frustrating and I worried it looked too simplistic, yet the pages are still hopelessly cluttered. In fact I had a totally different idea for this insert from august 2019 but then COULDN'T FIND IT nor any sort of script describing it when I finally got around to dealing with it a year later, until a few days ago when I was looking for something else. And I couldn't remember anything ABOUT it, either. In fact I eventually convinced myself I hadn't made it at all in order to make myself give up looking for it. That it was too long to fit on one page is the SOLE detail that I recalled and that prevented me from totally believing it didn't exist. I seem to have more anxiety about things not fitting on pages than what they actually are.
What this IS, whatever it is, it does not completely contradict what I did use, so it can be used as a foundation for a similar page later. probably for the best that I didn't find it, for the book 4 spot, since this openly shows (or would once it was drawn better) kumquat becoming kaklabesk, and also some baser form which i have no recollection of designating as part of the process. since i fussed so much over the way i presented kumquat being kaklabesk in recent "book 6" pages, inserting an earlier page where i show it more blatantly would seem counterintuitive. Which would also be consistent since nothing I do is intuitive but there is still plenty on today's pages that doesn't work so don't be concerned about that.