September 14, 2008
This one is sort of frightening itself. When does it stop, ehhh?


regarding the website item immediately prior to this one:
Yusk, was I really that mad about "milf?" Jim, why won't you talk to me? It's been almost three weeks. I think I've finally gone fully psychotic. We need to get me eating some mad pills, yo. I was obsessed with the fear that if I did not complete and upload that there soon, the season premier of Saturday Night Live would steal my points and I'd look like I was copying it, and badly, because despite talking big rubbish about it for years I obviously still watch it. That is not a fear a proper person has. Nevermind that this is national news which people, among them superior satirists who don't take the whole summer off, have been discussing for quite a while now, and the closest anyone has come to accusing me of plagiarism was suggesting that the frightfully proportioned proto-dopes in my ill-everythinged Doom levels looked like Pikmins, which I had up to then not seen and had assumed to be more retroactive pikachu ancestors I didn't need to worry about.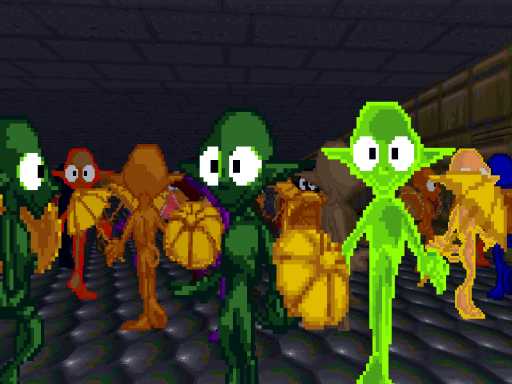 In the end it didn't matter because I failed to get the piece out before 9:34.24 pm, and I checked and there was only one recorded access to "milf.png" between then and 11:45 pm eastern normal time other than my own so it is still plausible that I watched the first sketch and shoved it through an eemo filter in the fifteen minutes before Sunday. Or worse, I wrote it right now and just changed the date. Even if nobody thinks that, just the fact that I thought they would means I need/have some real problems. Even if nobody who watches that show also reads this, because it is essential for my survival to pretend everybody reads this.
Inexplicable topic change:
Regarding the recently deceased Don LaFontaine, I found it odd, and I found it odd that I found it odd, that a man who had been dead for three days was talking to me through my television about movies which wouldn't be released for another three. Including making specific reference to the near future, as in "starts Friday!" or "starts tomorrow!" You can't say it starts tomorrow because you were dead yesterday! The only way you can mean that would be if it actually started the day before yesterday, but it starts tomorrow! Of course he recorded those in advance, but it was still weird! But now I find it even odder, hearing "now playing" ads in a different voice that's trying to sound like his voice, as if he's Porky Pig or something and a new guy can just take over. Yes, but no!
Clarification:
My problem isn't just that Disney suddenly has a food brand, but that it's a major food brand, getting prominent placement in a super-market where one of the primary features is usually cited that all the big brands are there. Also, how many other companies make ravioli and raisins? Would you buy a Ragu brand graphing calculator? More to the point, if Ragu made graphing calculators, would you expect to see these in a store without a special obligation to sell every type of graphing calculator?
Christmas Enzyte Watch: last sighted August 29. By Yuri, this will stop it. And when I say watch I don't mean actually watch the ads. Not even for a second, not even with the sound mute. They've come on so many times I can detect the specific analog frequency of their scan lines.