June 20, 2014
I wrote something terribly boring. I will look it over on Sunday and see if I can make it any worse.
———————————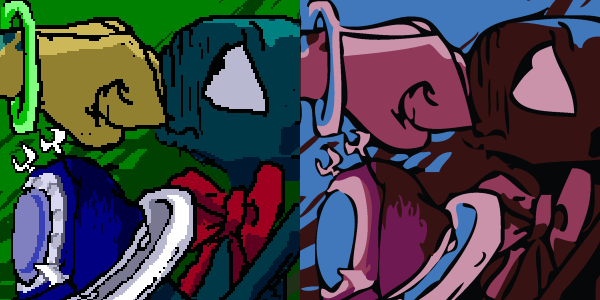 page 23
of
that
Another redraw, but with an added technological development. Adope Illustrator (and flash, to a degree) can "trace" low resolution images and convert them to vector mode, which can be endlessly upscaled. It is a corny, obvious conversion, but it is less obvious than a simple pixel upscaling. So if I only draw over important areas, something that I miss will be less obvious. This is thus theoretically faster than my previous redraw method. It is still not as good as a totally fresh, non-traced redraw, but by this point I like the old drawings, so am in less of a hurry to re-interpret them. This way can also preserve some color, but I forgot to increase the number from the apparently default value of 6, and I considered that having contrast and shadows emphasized would be sufficient and I would only add color sparingly to have more striking and less garish artwork. That was incorrect, since this still took forever to work over and I absolutely need to have yellow green and purple everywhere. Next time I will try keeping the original color, or at least Adobe Illustrator's cmyk conversion of that so I can reach full ugly more quickly.
That it seemed like it should have been easier ought to have been my first clue that it would be harder. Or perhaps just so dull a task that it seemed harder. The next page I make, whenever that occurs, will be for the "newer" part. it is about the only thing in my life that is not fixed in place, cyclical or getting worse, and I find it highly suspicious, and therefore intriguing due to that.