May 6, 2010

Right, so I saw that avatar movie. I wrote something pretty mundane about it but I discovered I referred to it in what I wrote about another movie I saw more recently so I may as well put it here. Unless you have a better idea. If you do you'd better tell me quickly! No, too late. I doubt I'm the first person to make an Ultima joke in reference to it, so may I please be the last?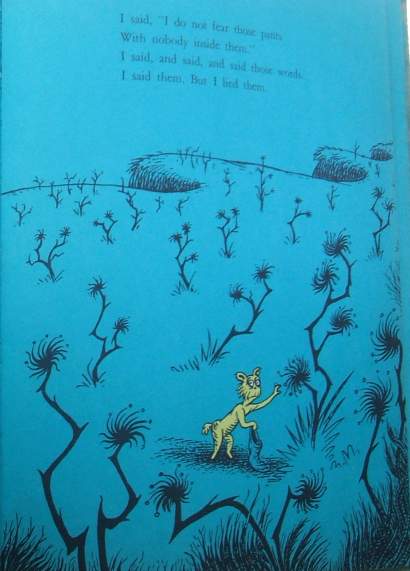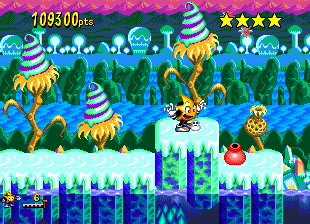 I like weird looking plants, but they are nothing new to me. I growed up seeing them all over the place, in a very similar context: inside big rectangles I could not enter.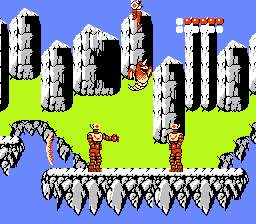 Rygar had floating islands, Chrono Trigger had floating islands, Legend of Dogoon that I SLAMMED last week (in February) had floating islands. I
like
floating islands but James Cameron didn't invent them. I found the Spindizzy Worlds more engaging than Pan Dora. It may have helped if my glasses and / or left eye had been calibrated properly; the whole film was blurry. I could see layers, but they were like viewmaster layers; some things stood out but they stood out by uniform amounts, and if they were near an edge of the screen they looked weird. Also, no attempt seemed to have been made to compensate for the darkness caused by the polarizing lines on the spectacle lenses; everything was just a little bit dark. No, excuse me, not EVERYthing…
the bright green EXIT signs on both sides of the screen were at full luminance and at least one was visible to me the entire time. Also, lights on the floor and behind me to the left.
The presentation itself was alright. Nothing that will change my life or that I'll always remember. As any amount of people have mentioned the story and the characters are nothing new. The angry guy among the pure people who hates outsiders for good reason but that has to be proven wrong is especially played out, to me, though I must admit I liked that character better than some others. You can't go wrong with bad science men vs good forest men. Maybe I'll have an easier time siding with the forest men when they're not all enormous, hostile Captain Planets.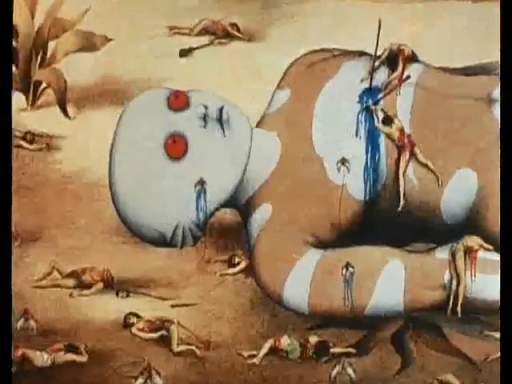 I don't mind the navies as long as they are presented exclusively as space aliens, with no allegorical implication that everybody would be better off living that way. The na-vi have no art, no individuality, no curiosity for that which they do not know. That suits them fine, but it does not suit me. Although that's just as well, as anyone with a physical or mental defect is liable to be beaten to death or left to starve in a culture like that.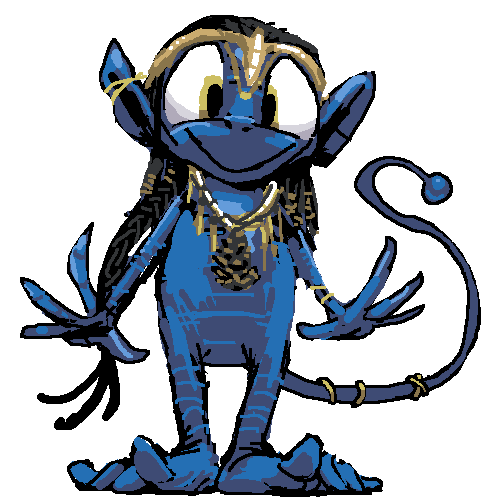 Which wouldn't necessarily be a bad thing in one example I can think of, but I believe in general it would be. They're probably closer to harmony than we are now, and it's good to keep in mind possibilities for alternate ways of living, but there is no perfect society, nor has any ever existed. Perhaps there can be one, but it won't be like that.
I think the 3-d may actually have detracted from the experience, to me. Without that I could have viewed the thing at full brightness, without stupid glasses, and without the picture being blurry. I found myself wanting to close the less accurate eye, a lot. A question struck me: do I normally do that? Do I view most films with the less good eye closed? Does being prevented from doing that for fear of losing part of the "experience" actually do more to ruin things for me? If I closed my left eye, the right's vision was clear (but dim). I could have watched the whole movie like that, but I kept hoping I'd suddenly figure out a way to make the full picture less blurry, and so I kept both vision orbs in use for nearly the entire time. I've long suspected my actual vision was less than perfect with regard to things lining up in both eyes. If I really pay attention to a thing, I notice that there are two slightly different versions of it front of me. I assumed that was normal. Maybe it isn't! It works alright for me, because I know nothing else, and nobody has suggested that a certain aspect of it is supposed to be a certain way (aside from when I've been accused of being colorblind), because it's normal and nobody thinks there's anything to say about it. However, once I start looking through a preconfigured mode of alternate vision, my alternate mode of function becomes clear. I may need to have a special corrective monocle made for myself that I only use when viewing three-dimensional films. I can squeeze my less good eye a certain way to make it focus properly, but I fear that will damage the thing further, and the eye is difficult to access with a plastic frame in the way, besides.
The film was filled with scenes – more than I can remember seeing in any other film – that I have watched – whose only purposes were to show off stuff. Unfortunately, if it looks blurry to you it gets annoying and you want it to hurry up and be done. Don't you understand, I WANTED to like that. I wanted it to be the greatest thing I'd ever seen, but it wasn't because I'm a broken human. I am doomed to enjoy less things than others and to be alone while I do it. This makes me sad.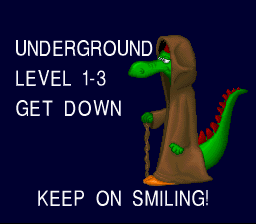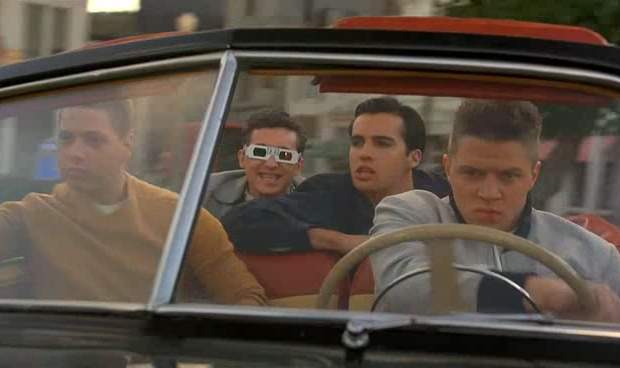 And so I saw the dragon film. I don't think I told you about the time I watched avatar, so I posted my contextless summary above here… The 3d worked better for me this time because I was closer to the screen, but it still wasn't perfect. A pity I couldn't get an imax screening. One person at whom I described my D-related woes after both these movies responded both times "you might need glasses." Well I was already wearing glasses, they were just dorky 3d glasses. As for NORMAL spectacles, I don't NEED them if the only thing I can't see and only on one side properly are 3d movies that use the polarization method. And besides either way the thing would still be dim the whole time.
I noticed that the main human, Wesley or Herbie or whoever his name was didn't have perfect teeth. Obviously the fat frubby Scotch Norsemen who comprised the bulk of the figures in the movie wouldn't, but I was surprised that the thin characters were allowed to get away with it. They also were allowed to get away with talking in standard American accents. I'm not about to accuse that overweight people are intentionally made to look funny and sound funny in comparison to "normal" thin people because I honestly didn't consider that until now and look we're not even half way through this. So I'll just imply it for the moment.
The movie did its job. It developed characters, it featured non-developed semi-characters which could be merchandised, progressed plot and waited to bore out most of its plot holes until the height of tension, when I would feel least inclined to consider them, and such and such. It did this without any pop culture references or overt sex innuendo and kept bad-smell-based "humor" to a minimum, which I didn't know was allowed in animated movies these days. At least nothing bad enough that I felt compelled to make a note reminding myself to complain about it. And so I will complain about another thing.
The music was nice. A pity, since I'd have love to watch this in silence with closed captioning rather than hear the voice acting. Maybe I can get a version dubbed into Chinese with English subtitles. The technology exists, though it needs work before it can be employed without launching abysmal internet memeys. The kid, what was his name, Danny or Milo, he sounded completely bored the whole time, even when he was doing stuff that had my eyes been properly configured to see through 3d lenses would look fairly exciting.
One thing I like about watching cartoons from other countries is that there's very little chance half the characters will sound like people from Saturday Night Live or Glee or whatever dominant white-people entertainment was hot at the time they were cast. Just in the previews I heard Mike Myers, Eddie Murphy, Steve Carrell and Jack McBrayer, and I saw Will Ferrell and Tina Fey's names threatened in letter credits for something or another that I was too busy cringing at to hear the vocal accompaniment to. Three minutes into the actual movie, which was a good 45 minutes after I entered the theater, hey here's a fat dwarf who sounds like Craig Ferguson, who never even worked for NBC. All these people are on or have been on major tv shows. They've made their money. Why do they agree to go along with this? None of them are voicing the characters; they're just talking in their normal tv voices so that I recognize them. It's nothing new but I've always hated it and I still do, whether they're people I dislike or the alternative. I merely resisted any pressure to go and see one of these productions until now, and the previews tend to be targeted at whoever the audience is expected to be, in this case children, accompanied by adults, because every movie has to be at least PG, thus more ugly computer graphic movies, thus more boring human voices coming out of bright and shiny animate people. "But Mike Myers is doing an exaggerated SCOTTISH accent and he is CANADIAN!" but even that's a Scottish accent he's done before this role, and if we pretend he hasn't, Shreck trash alone has made it more ubiquitous than his actual voice, and this voice has been imitated by people in other movies (this one, for example) and terrible gum commercials.
In the credits for what I did see, I was informed that Kristen Wiig had talked for someone or another. She was also on Saturday Night Live, and while I was able to find some sketches she was tolerable in before I stopped watching, there was nothing remarkable about the way she spoke. I certainly didn't hear "her" when I heard the voice in the movie. I just heard A voice that I didn't much care about, whoever it was. Why cast someone like that? Another character was Jonah Hill, and instead of thinking "oh Jonah Hill I like him in contemporary emotionless stoner movies that are utterly disconnected from this" I spent the entire movie trying to figure out if it was Jack Black, who would also have been distracting. However, I shouldn't have had to think any of these things because the character was neither of them.
Every movie advertised in the lobby was a remake or a sequel. Again, nothing new, and again nothing I'm content with, either. The one thing that is new is that I neglected to bring my camera into the building and so have no dark and/or blurry pictures of unnecessary things. The previews that I alluded to reflected my lack of excitement or mere optimism for things to come. As these tend to come in superficially similar pairs (Bug Life and Antz, Shark Tale and Finding Nemmy, echt), two of them movies were about "so bad, I'm good" bootleg I M Meens without Warwick Davis in them. One was a blue alien (who ever heard of such a thing?) that reminded me a lot of that horrible alien that gets beaten up by the dogs for crashing into the fire hydrant, except instead of being typical and uninteresting for three minutes we get, I assume, thirty or so cycles of it. These clods have nothing on The Smoggies. Also, please don't make a Smoggies movie.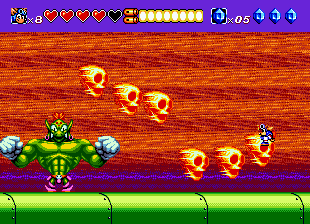 The color in these computer movies is always the same. Everything is perfectly lit. The rate of movement, the force of gravity and pacing and such are also always the same. I feel like I've seen all these places before. Much like with video games, once they went "3d," –in the rendering, not necessarily the projection– particularly after 256 color palettes were dropped, everything looked monotonous to me. Plus most of the plasma and spread orb guns turned into regular dumb old army guns. Yes, sure, all ye olde Hanna Barbera street corners looked the same and one Disney castle courtyard is like any other, but I challenge you even to identify but a graphic department by its backgrounds these days, much less a specific film (and if you can give me a day or so to acknowledge it because writing this made me tired). And while they've had 14 years to find an appealing way of showing computer cartoon humans, nobody's done it yet. I hate their big chests and little legs, but I also hate them with realistic proportions. I hate them with huge blobby heads, I hate them with conservatively sized mannequin heads. I hate them with little eyes really close together, I hate them with big eyes that allot space for a nose. In short, I hate. I also hate in long. I'm just as bitter and unpleasable as I ever have been, but I'm getting more specific. Once I've identified every problem I will bring my findings before the council and they will abolish things I don't like.
After a decade and a half of solid regurgitation of stuff from before we're now starting to re-puke up the stuff we already puked up and re-ate. We've already HAD a "new" nightmare on elm street. We've already had a "next" karate kid. Toy Story 3 reminds me too much of The Brave Little Toaster for comfort. To be fair, I am rarely comforted by brave toasters of any size, nor little toasters of any demeanor. Even when they have wings.
I am in the process of re-evaluating some of the stuff that I allowed myself to be revolted by in the 90s now that I see it under attack by forces yet less meritorious, and this does, alarmingly enough, include that blasted toaster. I also have it on no authority less than a youtube comment itself that some of the toaster people went on to be involved with the Pixar people, but that doesn't make the Toy Story any less creepy than it ever was. This one has Kens and Barbies in it. Although the apparent Mattel buy-in likely spares us any overplayed "Ken is a closeted homosexual with no genitals who doesn't realize he's gay because he's the only man in town but he couldn't act on his urges even if they became relevant" jokes, I think the writers should have the right to include such things should they deem it prudent, rather than to be bound by strict licensing codes of conduct. And you know me well enough to understand that I'd find a way to be annoyed even if Mattel granted Pixar a temporary "Ken is gay" license because I already implied I was comedically disaffected by that. I may just be annoyed at the money flow involved, and it goes both ways, surely, with getting existent products into works of fiction that serve to promote them without doing anything that a free non-licensed stand-in couldn't. Although in this franchise the stand-in itself would be marketed as an original product and I don't think I could take that, either. I don't find "toys doing stupid stuff" funny unless they're MY toys and I'M making them do the stupid stuff, besides.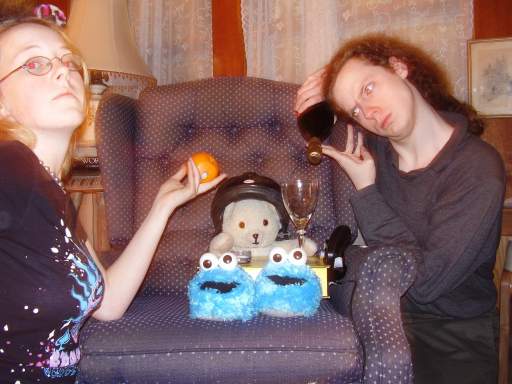 You think I have any control over this??
We've already flipped and dissected every "stupid," "hokey," or "sincere" thing about our dominant consumer generation's youths. My mother was 35 when that The Brady Bunch movie came out. I'm no fan of the Smurfs, nor was I ever, but I'd love another 8 years to not have Hollywuh pretend it knew smurfs were stupid all along and act like that's news to ME. It could even be argued, by me, regardless of anything to base it on, that the avatarts were space smurfs who just happened to be bigger than Gargamel. Frimbip, Robot Chicken's been showing action figures acting uncivilly toward each other ever since Seth Green found web pages from 1998 and realized he could rip them off for free but get paid for it. MacGuyver doesn't even get THAT honor; it gets, "MacGruber," a movie about a one joke non-parody of itself, with its origin, shockingly enough, being Saturday Night Live. That may even be a less reprehensible approach, but I'm far from optimistic about it.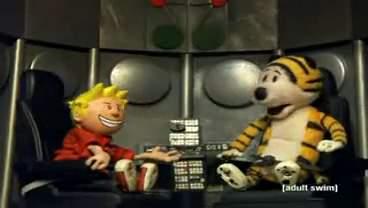 I personally can't stand the Robot Chicken mouth(s), particularly the banana shaped tooth kayak that shows up in every character's talk cycle and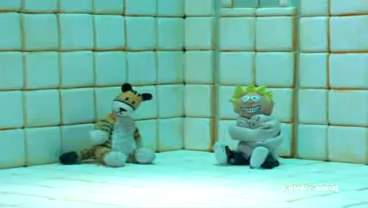 the bright white square teeth that they alternate scenes with depending on circumstances I don't care to investigate. Yes, I pay way too much attention to the teeth of animated characters. It's obvious more time is spent matching the mouth to every syllable than any other aspect of the animation, so who can blame me for noticing? I meant that for this series specifically but it's true in general. Also, the low-budget amusement which should come from such apparently cheap production values is rent asund when they incorporate realistic explosions, bullet physics and blood (and there's usually blood). Clearly somebody is spending thousands of dollars on this junk and should be held to higher standards than you-tubewits. Robot Chicken is the inexplicably legalized, advertisement selling television equivalent of bootleg Calvin shirts. Except it actually had a bootleg Calvin sketch, except Calvin was actually called "Calvin" and was a murderer and nobody cared. If
I
put a picture of Calvin acting in a comparatively courteous manner on this website that I do for free, however… again nobody will care because the Universal Press Syndicate gets its property violated a lot more often than the
Shipyard Brewing Company
does.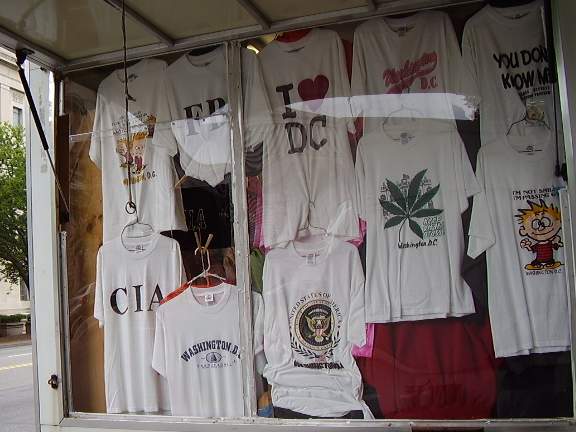 That is, I expect whoever is selling bootleg calvins out of a not necessarily mobile storefront on a main street in the nation's capital is getting taken down before I am. The only reason Eli Co didn't thank me for alerting non-yacht owners to the existence of their product is because when we spend $3.50 on 12 ounces of soda we expect to get six cans of it.
Thinking back… Starsky and Hutch, Miami Vice, Inspector Gadget, Dukes of Hazzard, Underdog, The Cat in the Hat, Land of the Lost, Bewitched… has there been one year since this rue wave started that there hasn't been a nationally distributed hip, new, cynical, utterly off-the-mark take that ultimately nobody cared about on an old concept? (And how many of these had Will Ferrell involved? (the last two (if we don't include Curious George, which I didn't get the impression was cynical (oh (yes (stop it (when I feel like it (how about now (I'm considering it)))))))) Even the "original" new movies are full of this intolerable attitude. "Guys, guys! Nah. Nih-nah. Nah, ya caaaan't… nah. Yeah, no…" I'm tired of every movie having Hal 9000 in it. The movie Hal was IN didn't have as much Hal in it as one Ben Stiller movie despite being an estimated 4 days long and Hal being the single most referenced concept about it. Nobody ever says "hey, remember that movie where the guy floats through space silently for 30 minutes and then turns into a baby for no reason?" Besides the point.
Nobody can crash into a wall, fall off a bicycle, slip on a potato or otherwise suffer a public indignity without this type of character providing an understated "ooh, ouch." or "gotta hurt." "Awkward." "Busted." If THAT jackass can tell it hurt, shouldn't I also have the right to? This is why people [on internet forums] hate Garfield. Garfield tells us what's funny about something kwazy in the most disinterested way possible. Looking DOWN on me for finding humor in the writer's work. DARING me to laugh at it. You thought THAT was funny? That ain't NUTHIN oops out of space. I do this sometimes, but I don't have an editor, much less a staff of them plus ghost-artists who can redraw a joke that I messed up by liking it so much that I couldn't RISK you not getting it, even at the alternate risk of making you hostile toward it.
Even the music in these things tends to be judgmental. It likes to stop abruptly when something deliberately stupid occurs. "A little help…?" It's not enough that the character failed, the soundtrack has to let me know a failure occurred by itself failing. It's just like a "record scratch" sound effect except the sound people finally realized that by pretending they used analog sound equipment they implied that non-digital technology was adequate and the companies pushing expensive new projectors and audio systems on all the theaters wouldn't like that. At least somebody finally cleared all the crickets out of here.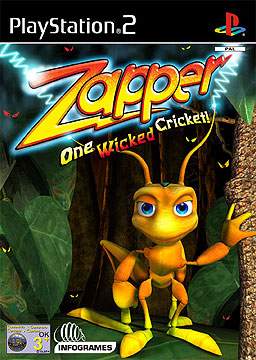 I tell you, those things are malevolent.
Next week, I compare
How to Train Your Dragon
to the Disney version of
Robin Hood,
connect this to amateur singing competition tv shows somehow and complain about them again.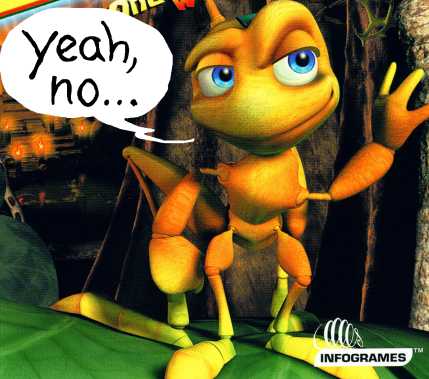 I'm afraid we have to go with your first response.