December 13, 2014
I will have an update on Sunday or my name is not Dwobo Stupwutch. And my name is not Dwobo Stupwutch, but if I fail to display an update that will still be the case.
================================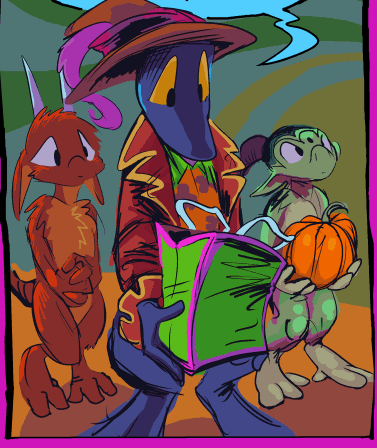 Page 4
of part 3 of
thistle.
I keep telling myself when I get a break I will sort out the
automated comic system
I spent days installing months ago, but I used the break making this new page instead.
The last few times the production got stretched across a lengthy period and I developed a hoard of stupid notes about it that I had to figure out for the website posting. If I did that this time I cannot find any, lucky for you! However, as before, I am concerned about the frequency with which the lizard has been appearing without a mouth lately. I intended to show a picture of it without a mouth here and then looked closer and realized it had a mouth in every pertinent frame, and contradicting me is even worse! I had to waste another minute erasing its mouth in the picture I just showed. Typical pitiful lizard move. Additionally: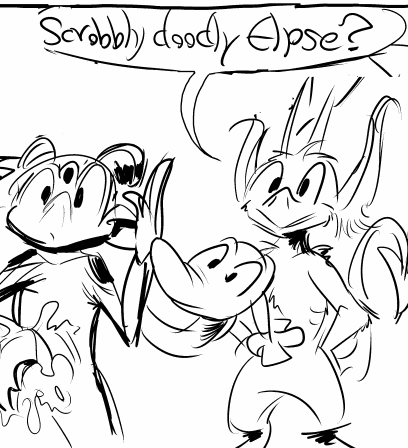 I will normally not stick up for dumb imps, but how DARE nemitz talk to elpse that way? How can it live with mitself? Notice how its ears went up just for that remark, like it is prouder of itself than usual. nemitz how would you feel if i said to you "scrobbly doodly nemitz?" Why don't you think about that awhile. If you have a reason why you don't I have a reason why I don't want to hear it!

I wish we could all agree to stop acknowledging nemitz, and just pretend it was not there. Perhaps with time it will choose to not be!