March 20, 2011
On the subject of Don K. Kong…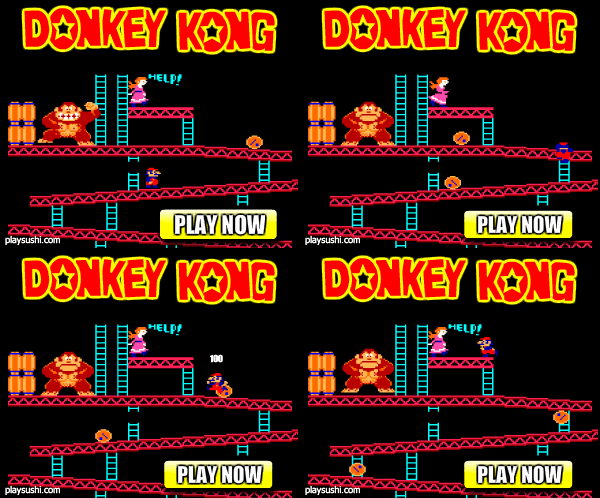 Guess what happens next:
A: D. Kong grabs Pauline and climbs to the next stage, like in the real game
B: The ad loops over from the beginning
3: Mario installs some pipes so that the building can be finished since he's supposed to be a plumber or something, right?
IV:
I actually click the ad
The correct answer is W: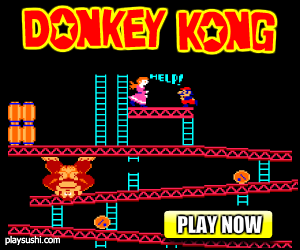 Donkey kong jumps in the air, spins 180 degrees and FALLS for NO REASON. Pauline continues to call for help. Kong remains emotionless despite the massive brain trauma certain to occur once he lands. I wouldn't even mind this so much if Kong fell while upright or adopted an expression that acknowledged how horrible it is to suddenly be falling and rotated for NO REASON.

The vertical version is even worse because the graphic dork put as much effort into formatting the layout as you'd expect, so you don't even see Mario reach his destination, and thus there's even less than no reason. He scampers beyond the image boundary and a few seconds later kong falls for ever no-er reason than before! The amount of reason that there is cannot exist in physical space and requires hypothetical mathematics to express.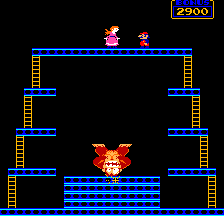 The proper D. Kong DOES inexplicably fall on his head, but only after the platform he's standing on collapses and in any event we get to see that he acts surprised when this happens. I'd like to imagine that the kong in the ad jumped off deliberately, and he's diving into a pool of pudding just below the image edge that was prepared specifically for such an occasion, but that possibility only occurred to me now and I don't presume that's what the ad designer had in mind.
This sort of thing has always bothered me. Like when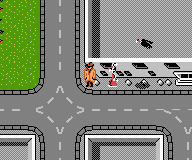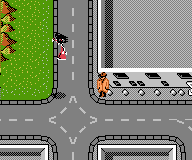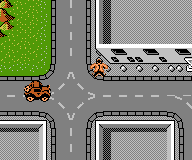 Roger Rabbit in the NES game gets stolen by an object meant to resemble a bird and then the detective guy just DROPS DEAD because he failed in whatever his task was.
The filename of the picture I started this with is kongarrrrrrrrrrrrrrgh.png I wondered why I insisted on putting an H at the end, the old Garfield way of spelling arrrgh, which then reminded me of how the Roger Rabbit game reminded me of a specific garfield cartoon.
I was TERRIFIED of this. I could not look at this page. I had no friends so I would re-read those little books all the time, memorized which strips came before this one and I'd worry when I saw them, not sure just how close I was. I would have to only look at the left side of the page and if I saw that clock oh oh oh! (It's magic)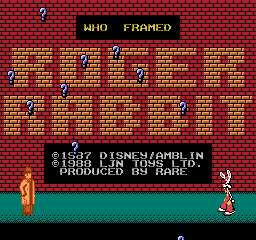 Oh, here's the problem. The Roger Rabbit game was developed by the Battletoads people before they hired the person who could draw nice. I talk a mean trash about Battle Toads but it is one of very few Rare games I've seen that I consider to have any legitimate aesthetic appeal. This includes the Battle Toad sequels and Kong Country and actually I haven't seen most of their games. But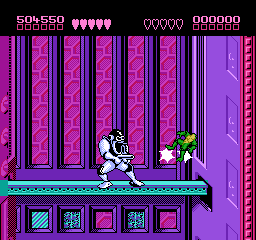 the battletoads, featuring the most superfluous life bar since Rolling Thunder.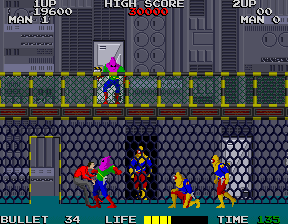 And SPEAKING of stuff happening for no reason

MAME DEMANDS TRIBUTE. I hadn't used it in a while so it decided that I needed to pay it in new roms for old games that used to work.
Also, in trying to get pictures of the rabbit kidnapping; I didn't realize the bird only starts chasing you down after a few minutes, so I had to also be reminded that there is an 8-bit police siren (that's a .wav, watch out) that sounds anytime you're outside of a building scene for longer than a few seconds, after which some cartoon rats appear and make you lose.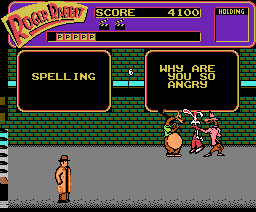 This is scary. If the rats just appeared it wouldn't be so bad, but the noise announcing their presence speaks to my psychological errors. I have a deep fear of being arrested for a crime I committed accidentally or without realizing was a crime.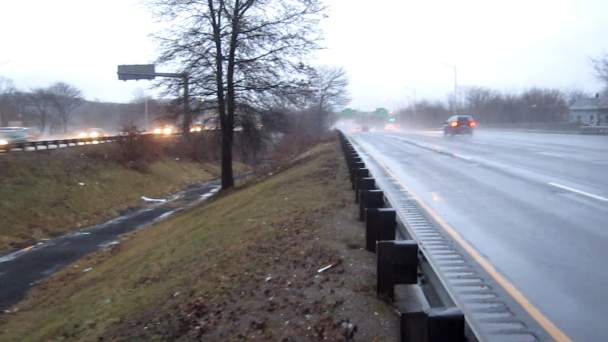 Such as standing really close to the highway. (although I was merely searched and escorted back to the road this time) Oops, you were in the wrong place! You have to go to jail forever.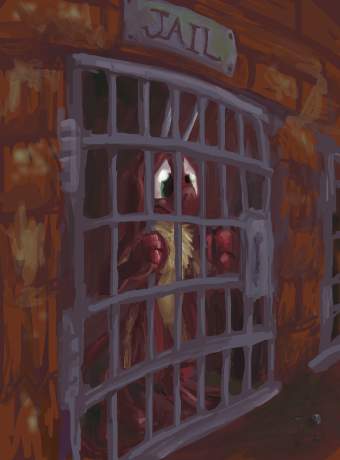 Which I meant to imply was a bad thing, even if this is a poor example.
I also recall being scared of certain graphics and musical cues in the Roger Rabbit game. I wouldn't be surprised if a lot of my disorders had their roots somewhere in there. Hidden timers, mystery crimes, terrifying noises, unexplainable voodoo deaths. It is an astounding feat to upset me in so many ways without any mirrored letters, vanish deaths or horizontally moving bosses that look at the player rather than their target. It doesn't have a life bar either, which I mentioned earlier and have also decided are kind of creepy. Yes, and I saw the movie once when I was six or so years old and have no recollection as to how anything in the game relates to that. It seems possible that up to 13% of it could make sense in context.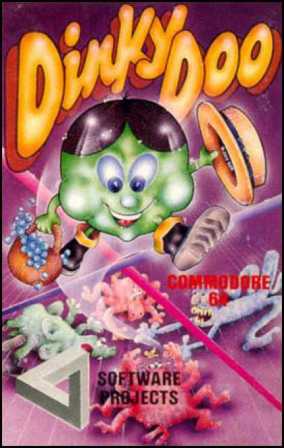 Which is pretty good for the 1980s.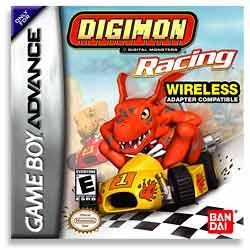 Or ever.