August 28, 2019
The job is yet incomplete but I believe I will be concluding book 3 at page 2-35. On the website I have that section as ending with 2-39, but then that only leaves 22 pages for the next book. This change leaves it with 26 which still seems low but there is at least one, possibly two new pages that I will insert to show the gwakpazirs/"urkel spheres" again and also the kaklabesk creature which I made such a problem for myself over trying to explain on the most recent new pages despite it only having appeared on one page prior then. But if it is on TWO earlier pages, THEN my time was well spent! Some of the gnome pages are too bunched up, also, so I can definitely push that up to 30 pages. With the remaining pages I can make some origami pterodactyls.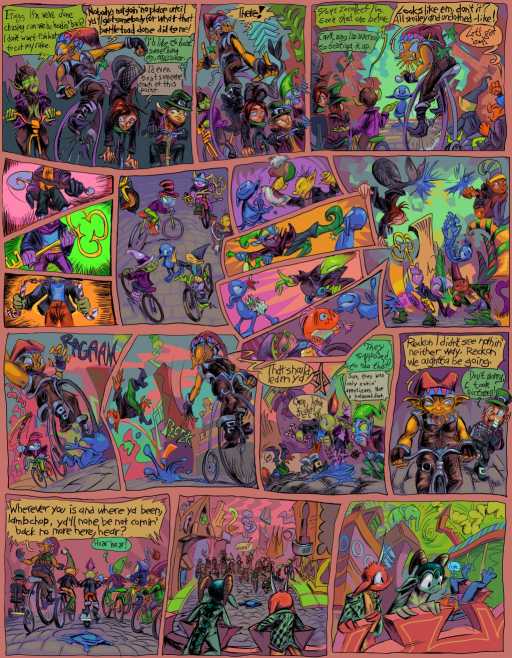 2-55
is particularly messy, even if as a work of spatially-efficient visual art I was particularly pleased with that when I first constructed it. That was the first page were there were conspicuously non-rectangular panels. But I suppose rectangles are preferable to wrecked angles. The dope getting beaten up is worth presenting in a coherent manner.
I included that picture just in case once i DO sort that out I forget to return to this and correct the link. Right now my right arm hurts because I tried way too hard to scrub a toilet today and I want to minimize excess fiddling on this website entry but I must think about my legacy. Fortunately I do not use a leg to scrub toilets.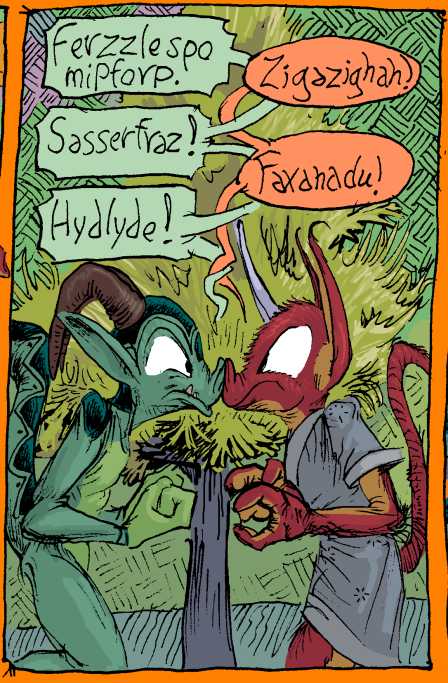 Additionally I notice a shift in the artwork at 2-30ish, especially once namitz and elpse leave the hospitarium, to a lot more cross-hatching, although somewhat more orderly than earlier stabs at it, though with duller coloring. I was surprised that the last few I have been working over required surprisingly little art editing, compared to the previous two books anyway, beyond the
difficulties
I already alluded to. The editing at THIS point is tedious but not difficult. I seemed to reach a level of stability roundabout
2-21
in which I had just enough real ink and inexplicably coherent backgrounds despite a large amount of straight lines and inorganic details that don't change between panels, and then I lost it again once nemitz started wandering around screwing things up. And so to edit further pages will require a different "rhythm" than i had developed. Nemitz thought it could stop me, but stopping me there allows me to continue elsewhere! I would thank nemitz but I would never thank nemitz.