September 5, 2019
In may I offered "100 free sketches" at the twittor website in a completely misguided and cynical attempt to expand my audience, not considering that I might end up with an audience full of expansion fetishists, or that I do my best work with no audience.
it "worked," but only when I put in considerably more effort than i expected to, and of course only when drawing other people's characters and noncepts. Not helping were folks who gave such information that there would be no potentially satisfactory way to draw what they wanted that could be at all simple, but only a few of them seemed so entitled that they were absolutely depending on me to do so, and so as usual the fault was mine for assuming it would be easy and doing it anyway, even though never once has something been easy when it seemed like it would be. To help disperse the blame, I inserted less reputable creatures into some of the images that I might complain about instead, and those will be appearing here.
<! I am too self-centered, jealous and/or resentful to care what other people are doing in a positive manner, and anybody else who does not already feel that way will toward me eventually once they realize that i am. What remains are people with no self esteem and/or taste who are so far down the ladder that i look like a good person to cling to, and in my unerring wisdom I decided to pass a chance at charging money for it.>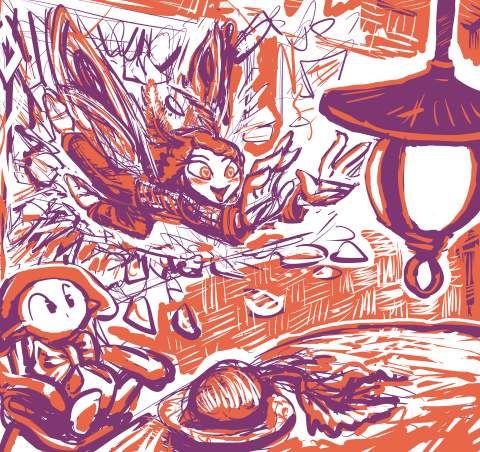 free sketch #11, for https://twitter.com/lazy__lucy! a moth person whose eyes in fact always have heart shapes in them, even when not approaching a desirable destination.
I meant to draw a fork and knife both wearing little bowties beside the plate but thankfully did not do so. I believe I outlined their shapes and then didn't notice I was drawing over them when adding the table cloth and then forgot they had been present. I also did not notice that the bowtie meep on this occasion lacks arms and perhaps both of these things are evidence of order in the universe.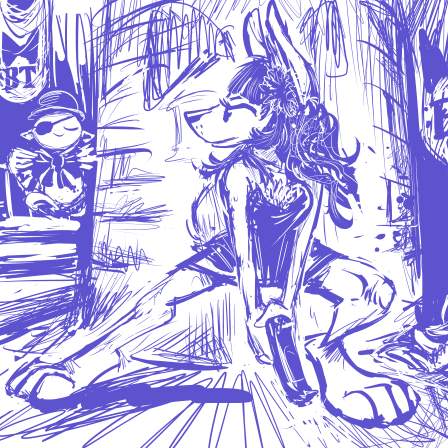 free sketch #14, https://twitter.com/WhiteDahlia_ , time traveling assassin spy, tracks down the leader of a mysterious but most assuredly nefarious organization. I presume it is not actually missing an eye but since it has both eyes closed when it is feeling particularly proud of itself and it never isn't, eyesight gradually becomes irrelevant.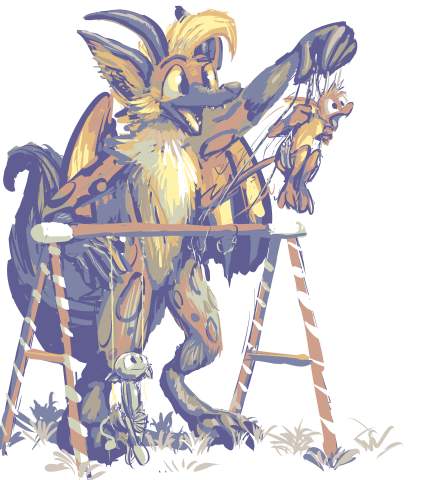 free sketch #27 for https://twitter.com/IanKeith ! Phaeux helps nemitz have a good time on the swing set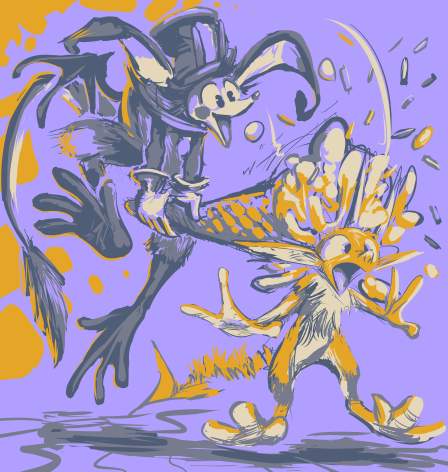 free sketch #?, https://twitter.com/HeathenHeanow/ (who actually draws better than i do)'s character, also named heathen, bestows upon nemitz the order of the banana and birthday cake-flavored ice cream with sprinkles. nemitz reacts with mits usual ingratitudinal demeanor.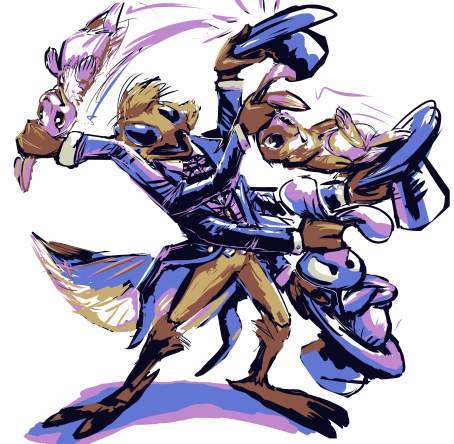 free sketch #28! https://twitter.com/TheAusSpideyGuy s character Leonardo knows that the best thing about having six arms is being able to pull rabbits out of three hats at once, although sometimes it is difficult to find three rabbits to participate in your routine on short notice.
pog was never meant to have anything in common with a rabbit visually and I never considered that there might be a resemblance until people started calling pog a "rabbit," including the
tip-soliciting
lady who gives out animal shape balloons at a local restaurant who thought it really necessary to ask my 4.9-year old niece if she could find "the bunny," referring to pog, on the sketchbook page I wasn't finished with or actually exhibiting after mis-indentifying the actual rabbit i drew as a moose, though admittedly I had put a stupid helmet on it. Which happened last week even though this picture is from a month ago but it seemed relevant. Therefore pog seemed a natural reluctant choice for this role.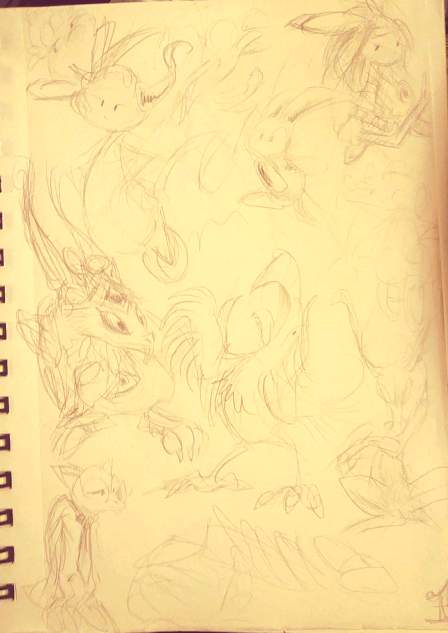 The person also thought my drawing of the sprite from secret of mana was a horse. Which is probably why I did so few ACTUAL sketches for this.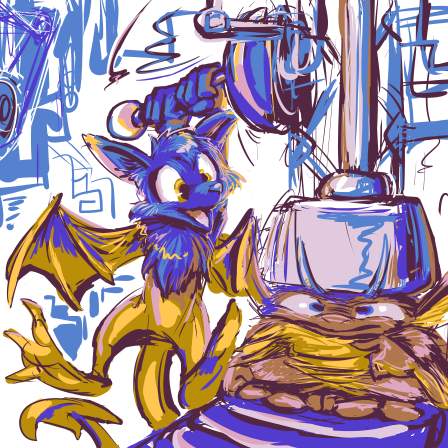 free sketch #36 https://twitter.com/DraygoDraygon 's character also named Draygo sees to it that nemitz gets squashed. nemitz feigns ignorance as to why this may have been necessary.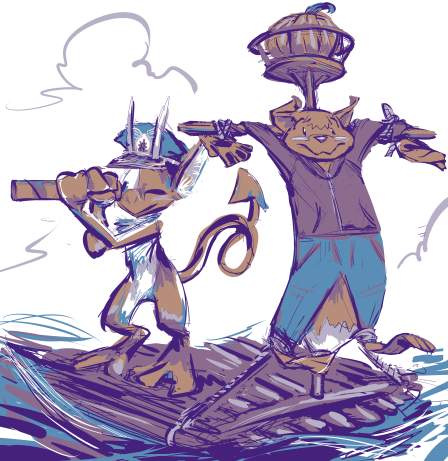 ree sketch #38: twitter.com/SpecstheFox and nemitz go sailing together. you might think it impressive that dumb old nemitz was able to rig the sail but nemitz probably bribed somebody else to do it in payments of stolen beans. (the captain hat is also stolen)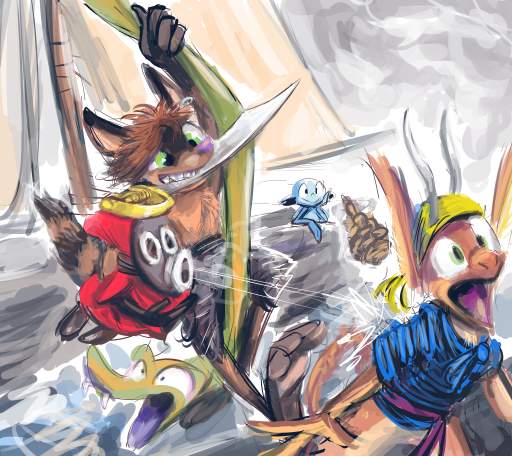 free "sketch" #45! https://twitter.com/CuntyMcPunty 's character Silver aids the cause of justice. rather than a specific content suggestion i was instructed to "go wild," which in my case means "go stupid." It might have been more appropriate for me to say: I don't know you, you don't even watch my page, and I don't particularly want your name to appear on mine, and so I don't see any reason to go anything on your behalf, but i did anyway because I am sick and I need help.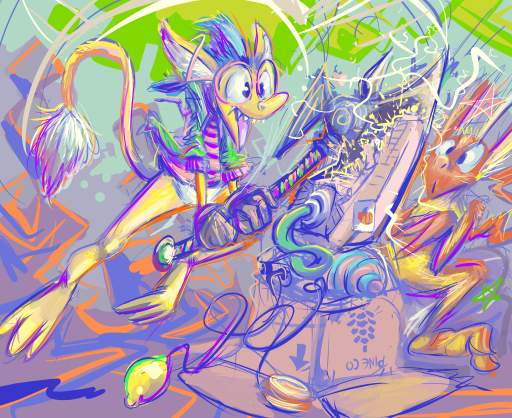 free sketch #Âż for https://www.deviantart.com/artificial-demon ! Acid Goblin hacks nemitz's computer.

That is of course only the monitor but nemitz is ignorant and probably thinks that part is the computer.
nemitz should not even HAVE a computer. mit probably just looks up pictures of beans on pinterest.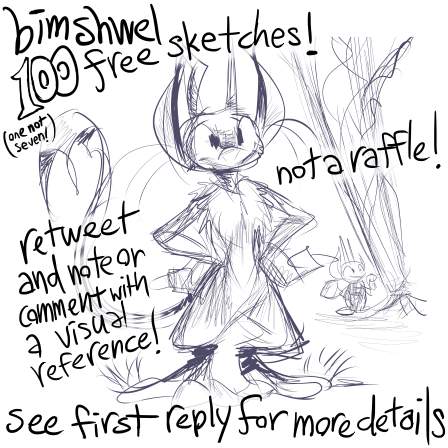 aksi: here is the actual original sketch that I used to advertise what I was doing. I think only three that I delivered were actually of this level of quality. I figured I could chank out ten of these a day, forgetting that nemitz in a basic moron pose is really easy to draw and that I hold myself to a much higher standard when drawing things that I want other people acknowledge the existence of. Nemitz deserved to be promptly forgotten once mit is crushed by that tree.
and a "raffle" is when somebody demands that you share their post and watch their page for a chance that you MIGHT get something for free. I think it is despicable. And so not only did I commit myself to much more work, I necessarily capped the free advertising I could get from it on account of my committing to granting something to every participant but only a set number of them. Does that all make sense? It shouldn't! Also the nature of this sort of thing meant that most of the people who did participate were sickos who just like the idea of getting stuff, not much caring what it is or who it is from. And I could tell because when I checked their pages to make sure they had retwutted my post before making a request of me there were often already 6 fresh raffle retweets above mine. And of course a few of them didn't do it at all.
Or they will have extremely niche, stupid tastes that I can't even talk about with explaining and making myself seem insane just for having been directly in contact with, and only share the offer with other people who are even deeper in the same dumb niche, and then blambi, I have to draw a whole bunch of 8 limbed inflatable monstrosities being force-fed after being flattened by steam rollers. You know, stuff normal people like.
By this point I have finished about 56 of them, which is roughly half because I kept letting people sign up after I closed the thing. Even though decent people would probably honor my set total and not ask to be let in after I had closed it. I wouldn't let nemitz get away with that! Or I would certainly sternly and directly rebuke nemitz instead of talking indirect trash about mit on another website. It wouldn't be professional to talk to fictional characters on my website in an insincere manner.