October 24, 2019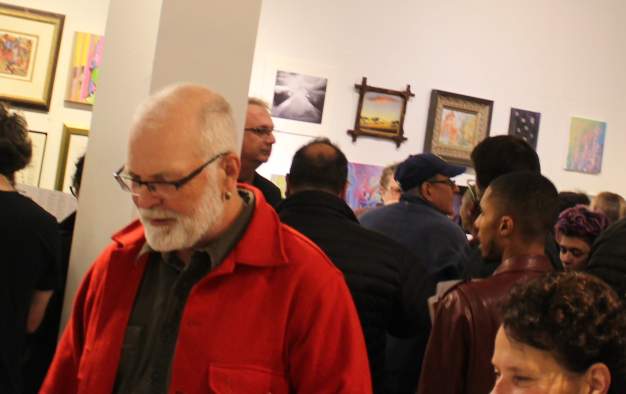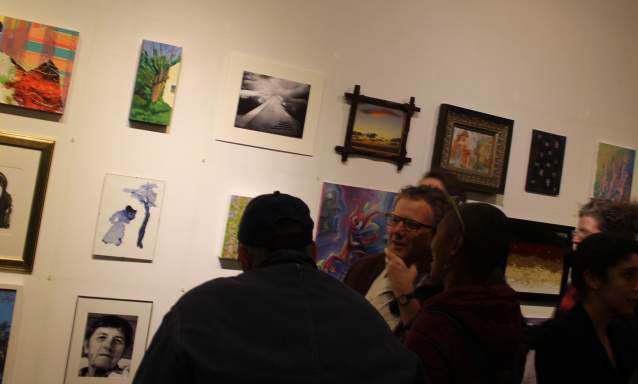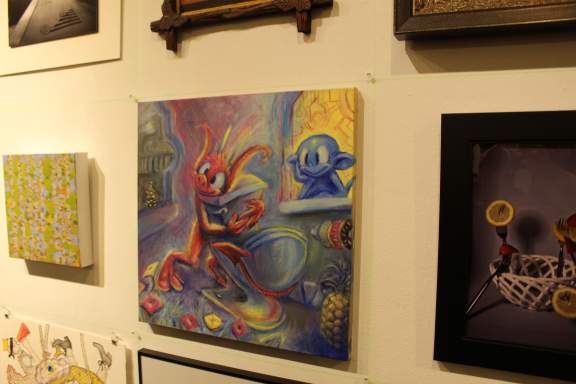 I hated this event but I did enjoy seeing people having serious conversations while nemitz was hugging a toilet behind them, which is probably the only thing I liked about this event the past four years.
This event being the annual City Wide Open Studios "member show" at Artspace in new haven, a location within 20-30 minutes of moderate car driving from where I am usually. Being a member just means you paid $90. I point this out becomes occasionally somebody wants to congratulate my involvement but honestly truly all it requires is 90 dollars and being able to get there to sign some forms. A few hundred people have 18×18 inch items set up on grids where almost nothing stands out and then every person is crammed into the floor space so that no valid human interaction can occur. I primarily paid for access to the actual personal large scale art exhibition I will be setting up at another location, yet still forced myself to give this one more attention than it deserved, except for in 2017 when I just reused 2015's painting, an act which nobody else seemed to notice or care about.
I speak about this so negatively, you may wonder why I am involved at all, and that is because the $90 also gets me a room for two days at the Alternative Space Weekend exhibition which is in a different place, along with a generous assortment of those few hundred others and so far I have found that worthwhile. The painting of course doesn't get to go there since it is for the member show, which is in a different place, and it is a weird size, too small to impress or control detail the way I like to, so every year I think "next year I won't bother" but 10 months later when I feel like less of a wreck I think "eh it wasn't THAT bad, was it?" and do it again. Maybe by "publicly" stating that I won't, I will prevent myself from doing so. Although knowing me, I already did that and merely forgot. Although if I knew me better, I would not forget things like that. I should spent more time getting to know me.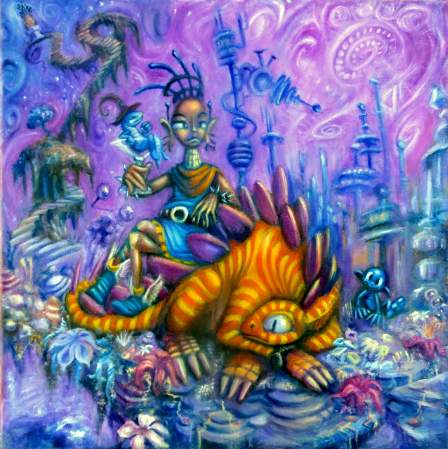 in 2015 i tried to impress with my painting skill.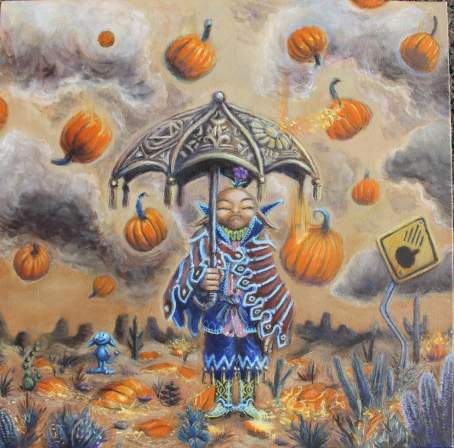 in 2016 i tried to impress with a picture that I know people always liked the digital version of.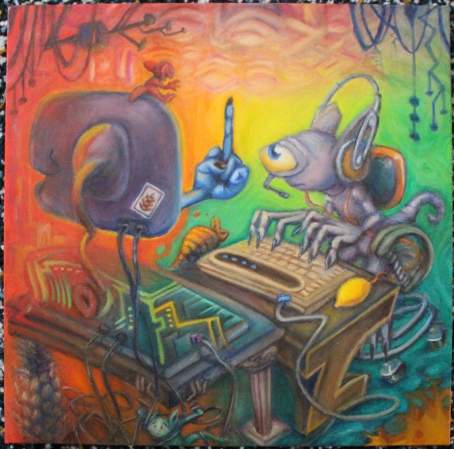 in 2018 i tried to make them laugh.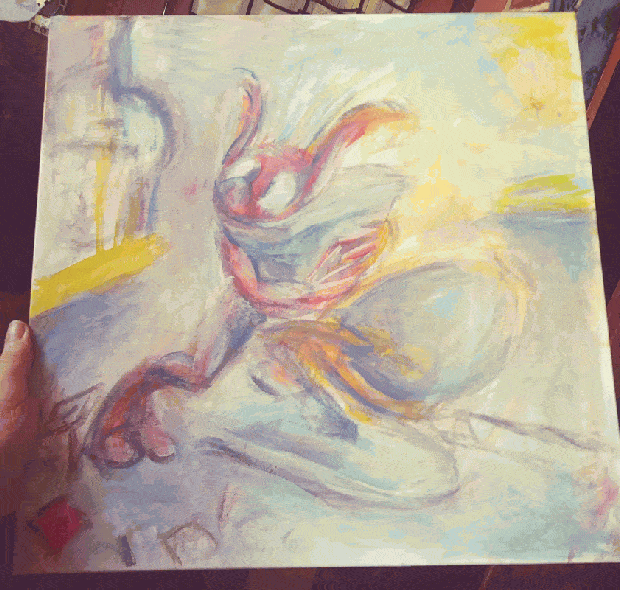 after failing to feel like I had been successful in the previous endeavors, this time I set out to annoy them,.
This is not finished to a degree that I like but considering that I did it between a friday the following monday night (the deadline) the time seemed relatively well spent; the fastest I had pushed one of these out and been done with it prior to then had been two weeks! If the crummy compressed gif works properly, it will be evident that nemitz (horrible red imp) was simple to paint, as I expected, but despite having the original quickly-done digital version as a guide I still misplaced the elements and had excess space on the right to fill, and made that harder than it needed to be!
Since almost all of my art is digital and NONE of it is optimized for a square… even though it used to be sometimes but I discovered none of the printing options I had access to favored squares, and likewise nobody sells hangable objects I could put a print into which would fill 18×18 inches well anyway, AND that I am useless at measuring, cutting, mounting and what-have-you, I have to seek out special 18×18 inch canvases and paint on them in my tiny little space which is not suited to painting. The nice acrylic paint I bought on past occasions which inexplicably is served in little toothpaste tubes almost all dried out.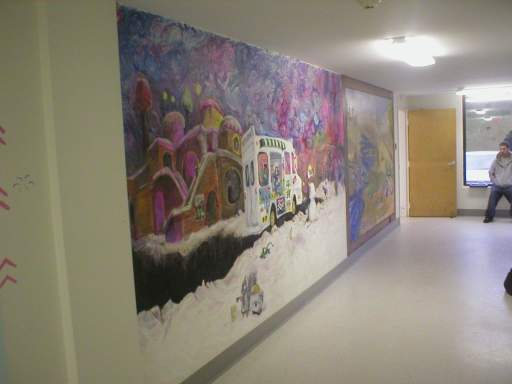 However, the cheap 89 cent walmart paint rigid tubes i bought in 2008 for a
terrible mural
still worked just fine. What I found easily was lacking for a few colors, true red and something close to brown, primarily,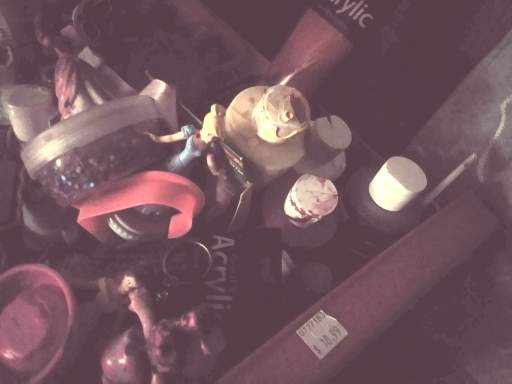 so I supplemented them with my 4.9-year old niece's presumably equally cheap paint.
As noted, a few hundred people participate in the city wide open studios mess each year. Considering that I have to explain to each and every person I know each and every year that the painting I am working on is NOT for my actual art show I definitely wonder how other participants go about the matter. If not for the fact that it temporarily increases my scrap of legitimacy in the eyes of family members who do not consider digital art actual art (unless it is done on an apple brand i-pad by someone they know better) and by extension my scrap of self-worth, I really have no reason to bother! Also, the parking in New Haven is awful.
This time the dropoff deadline was 5-8 instead of 2-4 or whatever it was in the past. I figured after the designated "rush hour" of people leaving new haven, it would actually be easier to get into, but I did not consider that an even greater number of people from outside quite willingly go into it and take all the parking spaces within walking distance to this dump. I could probably handle even that but my inexperience parallell parking led a bystander that I initially considered helpful to offer to guide me through it. I forgot that helpful-seeming strangers are usually pushy nutworks who aren't open to the idea that they aren't helpful.
Go in backward instead of forward, yes, helpful. Wait for this car to pass before backing out every single time a car wants to pass: obvious and not helpful. calling me "dude" when you aren't hulk hogan and "chief" in a manner apart from its historical function of acknowledging somebody of superior rank: not endearing. telling me "maybe you shouldn't be driving that car then" when I am unable to keep up with his rapid "turn the wheel [this way]" commands because it got stuck for the first time ever because I guess it doesn't like to be turned that much that often: I hate you. Reaching your hand through the window into my* car to point at [what I can't remember or guess]: I'm leaving so I don't start screaming at you. There was a less convenient street I could check for spaces which by that point seemed really convenient so i drove most of the way around the utterly 1-way block and went there instead.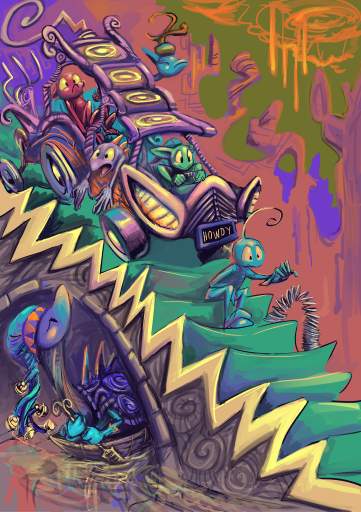 The secret to driving well is to not be stupid or angry.