May 2, 2020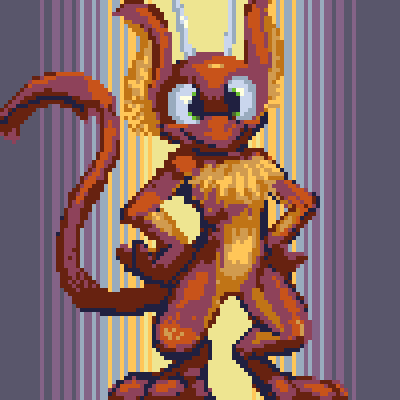 a quick test of the new tablet pressure sensitivity in ASEPRITE, a feature i had looked forward to for quite a while! i drew a nemitz first because anything i made after that could only be an improvement.
"quick" as in i probably meant to draw one frame in ten minutes that transformed into two hours
Unfortunately the way pressure sensitivity is implemented in the program is, so far, more of a detriment to me than help except on larger objects, like the tail here, so I have had it turned off for most of the process on what I did next! The way that works in clip studio I like much better. but if i ever get back to my so ill it transcends pandemic-fated doom-engine-based-construction i may be able to create animated
sprite graphics
faster for that; I draw them large and have them scaled down in the game so to minimize pixelation
aseprite is the same program I used to make [most of] the other pixel animations that would be found under the "animation" tab had I updated at all recently and not only haven't I, the stuff that used to be on it no longer shows up because I linked to them from my deviantart account because they were already THERE and I could. That evidently is no longer the case. Ewps. I will hopefully tend to that before 2021.