June 10, 2021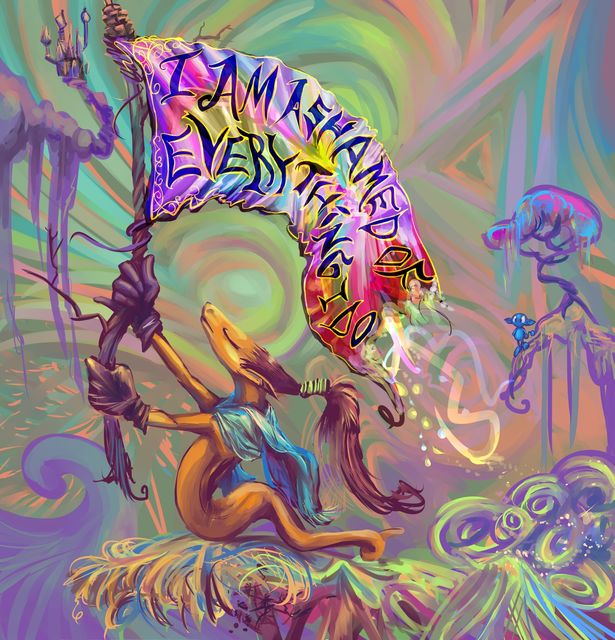 this month is, as an increasing number of businesses want to tell me, a "pride month." Specifically with regard to whom you do or do not want to have sexual relations. But I do not know how to be proud of something that I did not have a choice about or work to achieve, particularly when the things I DID work to achieve I am also often not proud of! Even if I could manage it, experience has shown that no established group represents any of my own interests, especially as more and more of the symbols are co-opted by global corporations that are larger than many national governments. I am destined to be confused and alone! Is it possible I am proud of THAT? I hope not. But I am confused and consequently uncertain.

Contrary to what deviantart and world-class comedian Fortune Feimster suggest, my true self's pride is not what it creates with, but what with which it distances itself from other people.
i do appreciate that the person i never heard of being shoved at me today by a corporate entity is not a fraction of my age and famous for smirking on youtube or singing shoddy songs, but I still find no fun or camaraderie in marketer-approved activities.
I used the pathetic snake in the illustration because it has and is problems closest to coinciding with my own, despite being subtly different in appearance from my self.
my "regular" characters are extremely proud of themselves but none of them know what "sex" is as far as I am aware. YOU may, naturally, be proud of whatever you want! this here is only about me. and it.
for other websites I named this piece "pride and precipice" because oh how droll it rhymes with the title of a book I never read. But I also realized that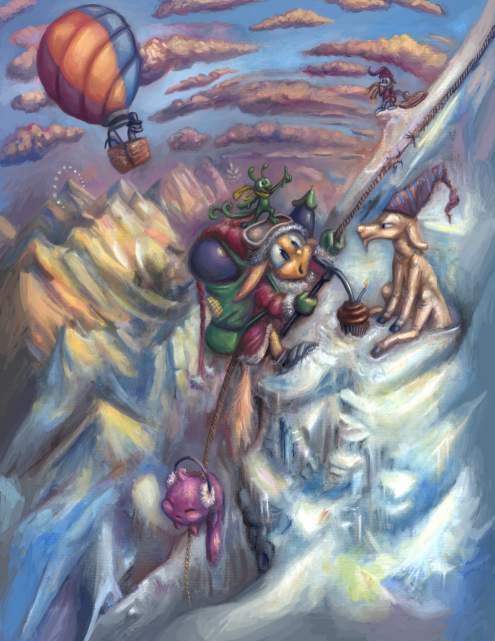 years ago naming this painting "unimprecipe" must have made no sense. i confused "precipice," a word for the edge of a cliff (specifically a vertical edge rather than the cartoonish, ready-to-crumble overhangs I prefer to draw but nobody knows that) with the evidently non-existent "precipe." This is otherwise irrelevant to the present subject matter.
a few weeks earlier my mother had sent me a link to "asexuality, the ascent of the invisible sexual orientation" but which seemed to especially focus on "asexual" folk wanting to see more asexual folk on television, and I was not sure how to respond to the link-sender about it, and never did. I am not asking you to read that! I am merely issuing proof that it exists.
I appreciate my mother's consideration, as twenty three years ago when I first knew I didn't want to be called he him his, there was absolutely no way to bring up this topic and not encounter misery or mockery. I remember the first time I did I was asked by this person "do you want to be like TOBY?" a ridiculous 'neuter' person who had appeared on the Sally Jesse Raphael show, clips of which were subsequently shown and laughed at on the E channel's Talk Soup program, which we both watched. I did not want to be like Toby. I still do not want to be like Toby.

it's about 40 minutes, this link is just to prove it exists, I am not asking you to watch it!
Toby is boring and has a boring name, even though Toby's stated approach to sexual matters and method of responding to people who are far too curious about it is similar to mine. Asexual is not the same as agender but they occupy the same "nobody is selling what I am buying" part of their respective spectrums.
However I am not at all concerned about the more recent self-labeling asexuals' "representation." Any group with photogenic representatives will eventually get represented in photography, and they are certainly prettier than Toby. They will get what they want. I do not seek representation, as I do not trust anyone else to achieve it. What I want is to be believed and accepted when I describe my own condition, not have to check a box and not have to choose a flag. Maybe news of self-described asexuals would reach more neuro-normal fans of shoddy media, and after long enough eventually be believed by them, and make it easier to describe my own problem to them, but that would be a side-effect.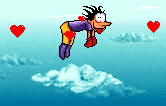 Admittedly I have in the past appreciated fictional characters that are never shown to have outwardly sexual identities, like Samus, Tintin, even dumb old Rygar. I don't need an official seal of "by the way they're ASEXUAL!" to appreciate that they do something important without romance screwing things up. And I would continue to prefer them if labeled asexuals started appearing in crummy tv shows, having that be their core defining trait and being exactly like every other annoying complacent smirking jeans-wearing forklogan I don't like otherwise.
And I do like Olive Oyl, Dynamite Headdy and certain Batmans, who sometimes have their decision-making skills impaired by the appearance of romance potential, because they are able to remain interesting. Sailor Moon is perfectly capable of both fighting evil by moonlight and winning love by daylight. What I don't like are gross, boring "sex scenes" and contrived pairings, like when a woman and man fight each other a lot and then out of nowhere start kissing, I can't stand it.

it is the "love" as a completely embarrassing and forced plot device that I cannot tolerate. I may also experience difficulty tolerating the people who tolerate them! Even if asexuals never do this I have every confidence that terrible writers will think of other disconcertingly moronic things for them to do instead.

I can imagine the gay porn test being a quad-annual requirement for renewing your asexual license.
I don't even like the WORD "sex" and I think "ace" sounds stupid but that isn't necessarily the fault of anyone I am griping about today.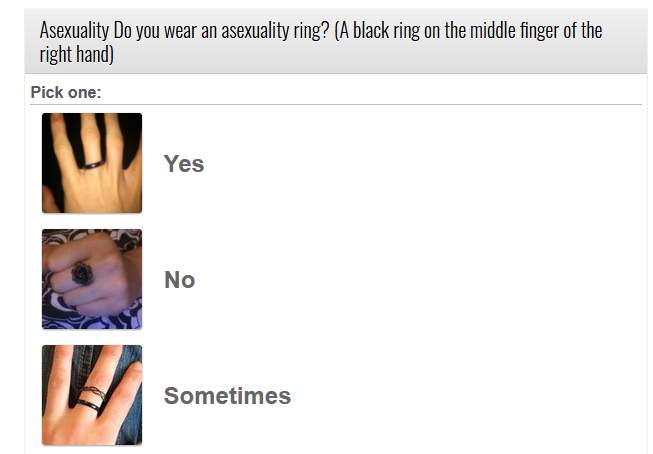 apparently there are rings you can buy or forge to grant yourself the magical power to not want to do sex. I should be grateful to not need one, perhaps. I suppose the idea is to identify yourself so you can be found and find others with a similar condition without having to be very ostentatious and PROUD. A little black ring is more discreet than a big dumb flag. I don't like having constricting trinkets stuck to my skin, though. I have never even been able to wear a watch, back when people wore watches. A ring is worse since it is isn't too tight it will be inclined to fall off and get lost, and I would want to constantly fiddle with and adjust it before then.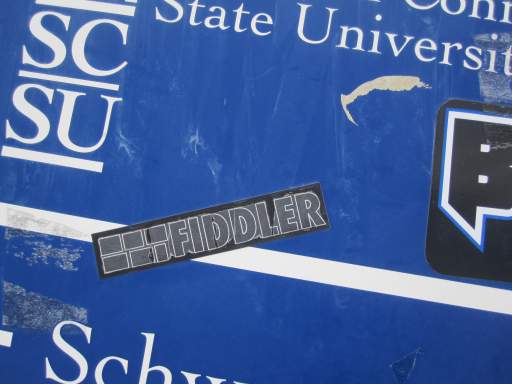 and now I need a flag to let everyone know I am a fiddler!