October 15, 2007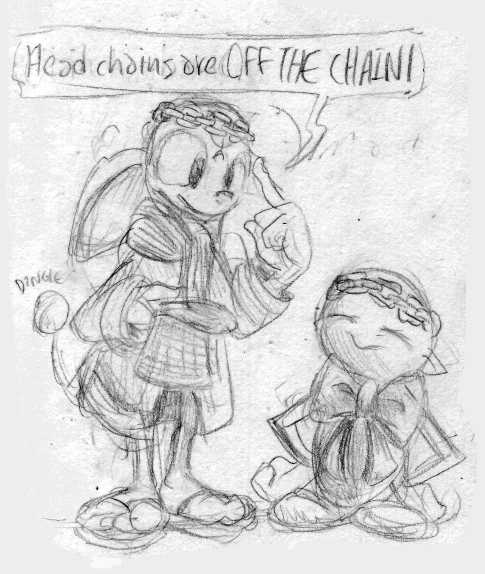 I don't know which one to beat up first. The left for starting this or the right for following and being proud of that plus its previous crimes. One thing certain is that this preposterous pair do not deserve such elegant fingers.
Off the chain? You'd be OFF MY FRIEND LIST if you were on it and I was the sort of person who considered that an acceptable way of communicating disapproval. I don't adhere to latest trends anyway, but I certainly don't trust stupid smiling partially dressed animal people to tell me what those are!
As for the bow tie beanoid, that thing is ECSTATIC. It's so proud to be wearing a head chain and a bow tie. As long as it can wear the bow tie it will do whatever it thinks is popular. That twit is just a crony. That's all. It has no real talents. it uses its sychophantic skills to obtain positions of relative power and tries to get laws enacted about stupid things like bow ties. It has information… it knows things (despite being a thing which lacks a nose)… It knows bombs are being sent, and by whom, but it keeps quiet just because its bow tie seems to be respected. It demands not only that any possible sub ordinates wear bow ties, but that the bow ties be smaller than its own. Trust me, I saw its diary.
The bow tie beast could never survive in the wild. It has no natural defenses with which to fight back and no legs with which to evade peril altogether. All it has is big arms. Although the grimp does evidently have opposing thumbs, the thing can't make and use tools; it is a tool. If it invited me to its birth-day party I would give it a one of these. I'm not just some stupid animal so I'd do it properly.
I have pages and pages of this.