November 30, 2014
You might be surprised to learn that some people talk to me. There is one person who does it on google plus for some reason, in addition to an unclear number of other people I get updates from whenever they remember they have google plus pages who do not necessarily talk to me. I noticed the update feed seemed to be feeding itself in an unclear order, placing things I saw months ago above things which had been posted more recently. This is done under the pretense of "tailor"ing the experience to meet my desires. Essentially it censors posts which do not get popular enough in favor of stuff that is already popular. An automated system to marginalize unconventional works and people, beyond the marginalizing people already do on their own. Speaking as someone who all evidence indicates is filtered out of existence and systematically ignored on "social media" regularly, I would prefer to not actively engage in that myself. I certainly would not delegate the job to a robot. Facebook does it too, and probably did it first. Google resents anything that controls information badly before it.


Twitter appears to offer a similar function, but I only found out about it via the control panel mechanism that lets me stop it from happening.
I searched for a way to make google+ stop, and I found Auto Aweseome instead.

When did "awesome" come to mean "brandable and roughly adequate?" Condescending advertisers finally killed epic and need another hypey youthful-sounding buzzword to ruin. Certainly they have been trying for
at least a year.
Or more like
two years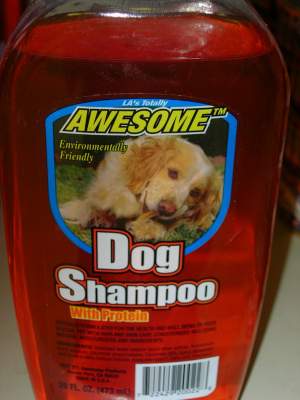 I forgot about this one.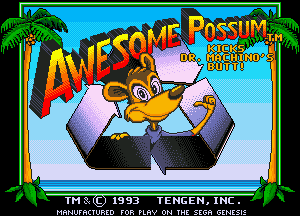 alright it has been happening for a long time! But it subsided for a while.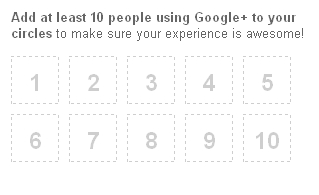 In fact, I seem to have saved this in 2011. I appreciate google+ for not imposing itself on my experience regularly enough that I realized how much I hated it earlier.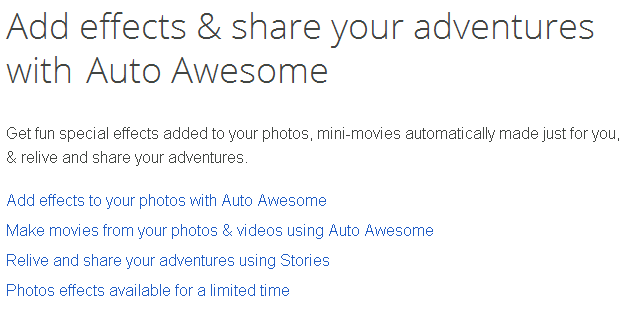 If it can be done automatically it is not an adventure. An adventure should involve the unknown and personal initiative. If somebody else is leading you along, telling you what matters, and what is interesting, that is a
tour.
And if some robot is just guessing based on largely meaningless figures or nothing at all it is tourash. I saw some bit of
between-show filler
on one of those cartoon channels showing some barely-drawn figure floating across a landscape pointing out every ostensibly adventurey thing that appeared, as if they were expected, each as stereotyped as possible so that the protagonist could be not surprised by them. And I thought "what rubbish this is, I hope I never see it again." And then a year later it was called Adventure Time, literally telling you YES ADVENTURE,
excitement obtained through taking risks and seeking the unknown
HAPPENS AT THIS SCHEDULED PRE-ARRANGED JUNCTURE and everybody liked it and was trying to be derivative of it and its self-aware dot-eyed auto-awesomeness. Bah! Doing things that you expect on time is the OPPOSITE of adventure!
Crap't'n' Ecoli's
website and its cease-and-desist letter to mine had the tagline "Stand by for adventure!" Adventure is not something that you stand by for! If you are STANDING BY then it is someone else's adventure!

Everybody on the internet wants to be Napoleon Dynamite except he is more artistically inspired.
I recently heard an advertisement for oatmeal with the slogan "today is going to be awesome." Oatmeal is NOT awesome! Not even close! And neither are pop tarts! You should not rely on them to impart awesomeness onto you and it is irresponsible for advertisers to advocate such a behavior.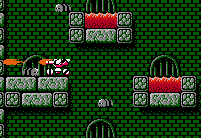 Pop tarts just make me think of playing to the second level of blaster master with the little lava pools that look more like pop tart filling and then having to turn it off to go to school. Blaster Master is likewise pretty bland and school is worse, especially when I have indigestion from eating two pop tarts. I could only get up to level 3 in Blaster Master so having to turn it off early probably fit in with my plans then.
There is, in present circulation, a televisual ad for one of these cereals with some dork eating Froot Loops and pretending to play the demo of Super Mario Brothers, while music as if they were actually playing is dubbed over with an announcer who sounds like he is wearing a neck brace strains out "bring back the awesome." Froot Loops were NEVER awesome! I just finished saying how non-awesome oatmeal and Pop Tarts were and you found something yet less so. While still not awesome by comparison, they are at least less unimpressive. Froot Loops were just alright, at best. Unless I am mistaken Froot Loops was the big pioneer in spelling the key ingredient's name wrong on purpose to keep yourself from being legally obligated to use any. But with the "bring back" and the desperate attempt for retro-game approval, these cereals are not being marketed at kids. Not real kids anyway, because this generation's adults are still children. Children do not desperately pine for "good old days" that were not really all that good. While you're at it why not "bring back" an 80 pound tv with dials on it, a rotary telephone, chuck your hard disk and chisel a floppy drive in its place, replace all your soft furniture with hard wood and swap your car for a stage coach. Then spend your inheritance playing old video games and eating tiny fossilized doughnuts while your own kids go to work in a coal mine.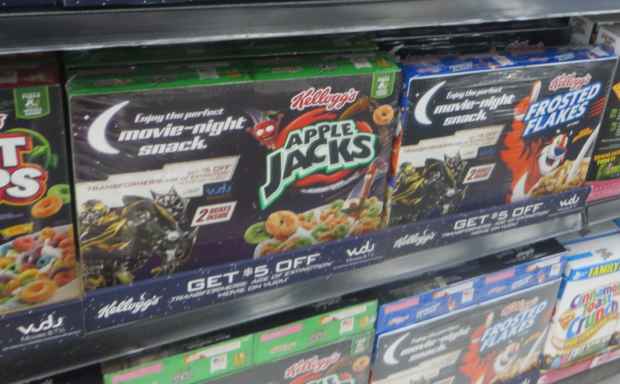 With that all said, I am glad to see froot loops and friends finally dropping the pretense that they are food. It is mediocre candy with centrum silver injected into it. Is a double-wide box not enough?
The Kellogg Cereal Company probably saw that most of the
ponely
audience was 30 year olds, and realized that pandering to real kids was a waste of time when there was another demographic just as fickle and unconcerned for its own wellbeing but with a lot more money to spend on banquet sized stocks of crystalline corn syrup rings. Actual children probably won't touch the stuff. They probably aren't allowed to. I know they'd get expelled if they tried to bring it to school. Froot Loops are probably in an offense category with plastic knives by now. But that's alright, you can eat rainbow dust hoops when you go home, and thanksh to modern innovations such as making the box twice as big, there may even be some left by then.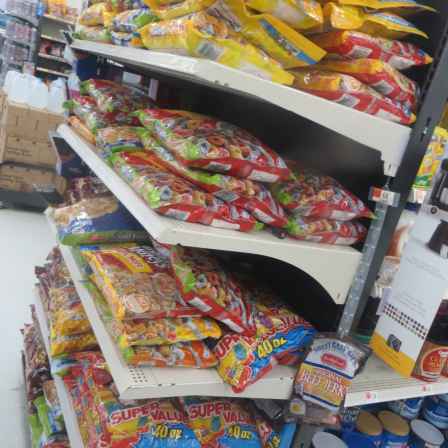 Here, have a lumpy sack, like something you'd fill a cat litter box with. I admit these are the generic non-kellogg brands, but real Post Cocoa Pebbles are on the shelf. "Real" said with the understanding that being not actual pebbles, their cocoa quoquotient may likewise be called into quequestion. Cocold in here!
In fact I would rather eat fruity pebbles than froot loops, but they ALSO remind me of blaster master!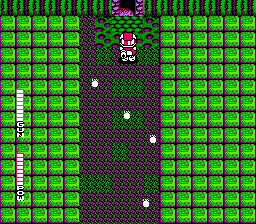 or worse, jujubes.